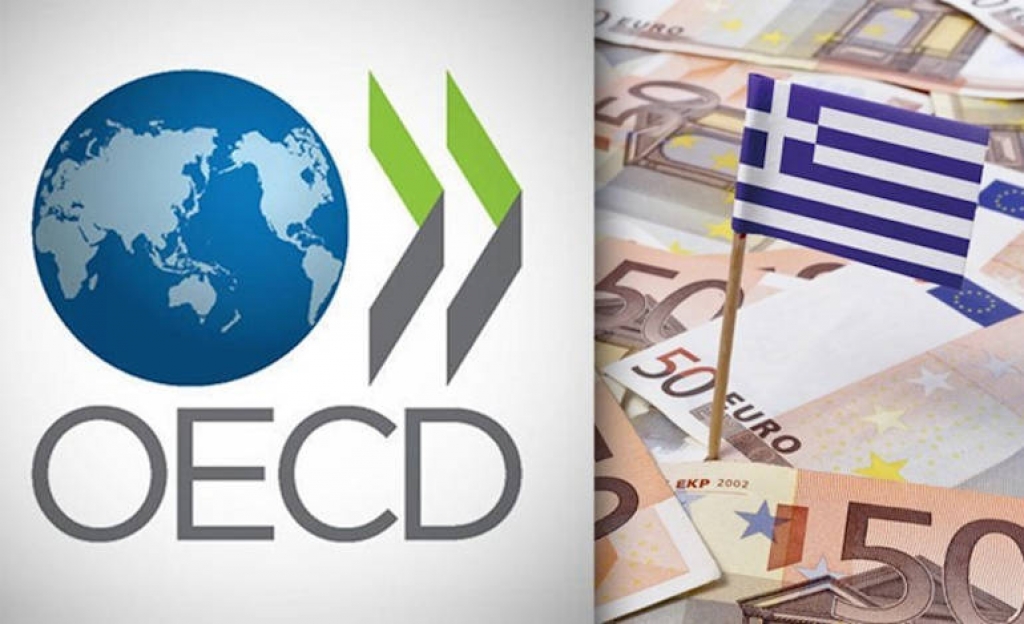 The OECD's projections for the Greek economy are looking all but good. In its report on the Greek economy, the Organization sets the recession rate at 8% for this year, provided, however, that there will be no second coronavirus wave. In fact, it will leap close to ​​10%, 9.8% to be exact, in the event that there is a round two of the coronavirus pandemic.
The economic damage caused by the coronavirus is described as "temporary", yet gigantic, as tourism, as well as production and employment, have been hit hard. Therefore, the 2021 recovery will be less dynamic than the 2020 recession.
According to the OECD, reforms will be the "key" to recovery. According to the agency, the implementation of a reform package could boost GDP by 5.2 percentage points by 2030 and by 24.2 points in the long-term by 2050.
The positive effect of the reforms on the strengthening of GDP will be multiplied in the case of parallel growth of the labor force with an increase of the population. In this case, the positive impact is estimated at 7.1 and 35.6 points in 2030 and 2050 respectively.
Based on the "worst-case" scenario, which includes a second wave of the pandemic, after this year's 9.8% dive, a slow recovery of 2.3% will follow, while in the recession scenario of 8% this year, the 2021 recovery is estimated around ​​4,5%
If COVID-19 does not strike again, total consumption will fall by 5% this year before recovering by 4.6% next year; employment will fall by 3.5% this year and a further decline of 1% will follow in 2021, although exports will be dropping by 11,1% this year with an increase of 8.7% in 2021, while imports will dive by 8.2% (increase of 9.7% in 2021), and with the current account deficit at 0.6% of GDP both this year and next year.
Nightmare
In the event of a round two of COVID-19, the Organization for Economic Co-operation and Development forecasts are looking bleak. Consumption will fall by 6.5% this year with a 3% recovery in 2021, fixed capital investment will decrease by 17.3% (with a smaller recovery of 11% in 2021), exports will decrease by 13.6% ( with a new decrease of 1.3% in 2021), imports will decline by 10.8% (with a sharp increase of 0.5% next year), employment will decrease by 3.8% this year and will continue to fall by 1,8% next year. In all scenarios, inflation in the two years is marginally above zero (up to 0.4%).
Decline in employment
However, it is the blow to employment that will be the most shocking, as not even a recovery will be recorded in 2021. In the best-case scenario, its reduction by 3.5% this year will be followed by a new reduction of 1.0% in 2021, while in the worst-case scenario, in the event that a new round of coronavirus begins, the decrease of 3.8% will be followed by a new decrease of 1.7 %. /ibna