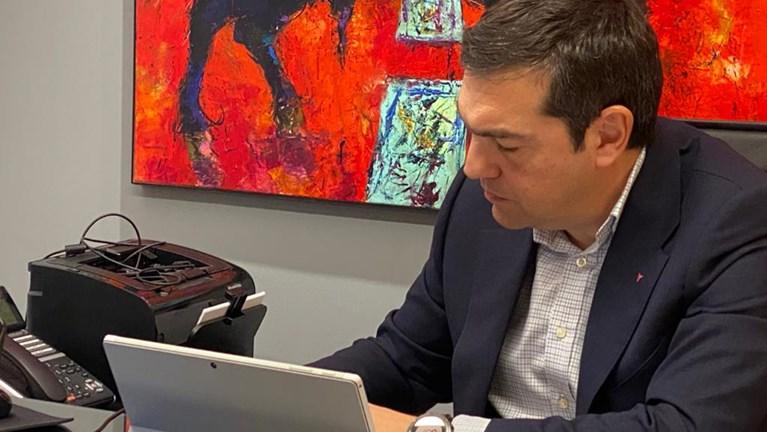 During his speech at the virtual PES Preparatory Meeting, SYRIZA President Alexis Tsipras stressed the need for "progressive forces to ensure that the Solidarity Fund is not accompanied by loans and austerity conditions".
The President of SYRIZA underlined:
"We all support the Solidarity Fund together, but its adoption does not necessarily mean that we will agree to a Keynesian Europe. Progressive forces must ensure that the Fund is not combined with loans and European or national austerity terms, but instead will be based on grants and European support for social policies to tackle unemployment, sustainable development and propose a European Guaranteed Income.
Euro-Socialists must reiterate their decision (13/12/2019) on sanctions against Turkey, in the event that there is a tangible violation of the Greek continental Shelf.
The German presidency should not be limited to the establishment of the Solidarity Fund, but further proceed to the upgrading of the Euro-Turkish dialogue, both through sanctions and a review of the customs union and a refugee resettlement program on the table. Otherwise we will have a new case of exploitation of the refugee issue, the talks on the Cyprus issue will not resume, and we will witness a dangerous confrontation between Greece and Turkey in September. The opportunity must not be missed".
In addition, the SYRIZA President had a phone conversation with the Vice President of the Spanish Government and head of the Podemos party, Pablo Iglesias, as well as with the head of the Swedish Vansterpartiet, Jonas Stostedt.
The SYRIZA chief discussed with the Vice President of the Spanish Government the strengthening of the cooperation between the two parties and the wider progressive forces in Europe, in view of the economic crisis and the discussion for the establishment of a Recovery Fund.
They stressed the need for the Fund to be based on an expanded European budget and subsidies instead of loans, not to be accompanied by memoranda and austerity terms, and not to lead to a neoliberal restructuring of the labor market. At the same time, they discussed social Europe and in particular the initiatives of the two parties in relation to the Minimum Guaranteed Income.
During a conversation with Swedish Vansterpartiet leader Jonas Stostedt, SYRIZA leader Alexis Tsipras discussed the strengthening of his party's cooperation with Vansterpartiet and the promotion of a broader European progressive front in favor of social Europe. At the same time, they exchanged views on the Recovery Fund and the need to address the economic crisis, with particular emphasis on the promotion of European tax instruments on multinational corporations and the coal industry. /ibna