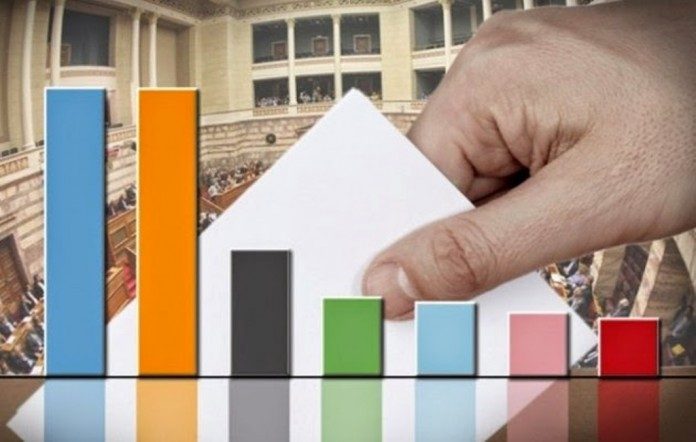 New Democracy leads SYRIZA-Progressive Alliance with 16.9 points in the latest opinion poll conducted by the company ALCO for OPEN television.
Regarding vote intention, New Democracy leads with 39.1%, against 22% of SYRIZA, 6.9% of the Movement for Change, 5.4% of the Greek Communist Party (KKE), 4.6% of the Hellenic Solution, 3% of MERA25, 1.8% of Chrysi Avgi, 1.5% of Hellenic Plevsi, while 3.6 state that they will vote Other. The undecided reach 11.9%.
Despite the fact that in vote intention New Democracy leads main opposition SYRIZA-Progressive Alliance, 38% of the participants in the poll state that they are not satisfied with the announcements made by Kyriakos Mitsotakis last weekend at the Helexpo Forum, against 36 % who are satisfied and 26% who said had no opinioin on the matter.
The respondents considered Kyriakos Mitsotakis as the "most suitable Prime Minister", with 44% acceptance rate, from the 49% in the July poll, while Alexis Tsipras is considered more suitable for Prime Minister by 22% from 21% in July. 22% finds neither of them suitable.
At the same time, 61% of respondents express satisfaction with the government's response to the pandemic, compared to 84% in May. 59% of the citizens consider the government's handling of the Greek-Turkish issue to be correct, while 23% speak of "wrong handling".
58% of citizens consider the new armaments expenditure necessary, with 25% believing that these sums should be allocated for other needs.
49% choose a diplomatic approach and 37% a military confrontation in the case that Turkey drills inside the Greek EEZ.
Regarding the compulsory use of a mask in schools and at all levels of education, 59% of the respondents consider it a necessary measure, 33% too much and 8% have no opinion./ibna