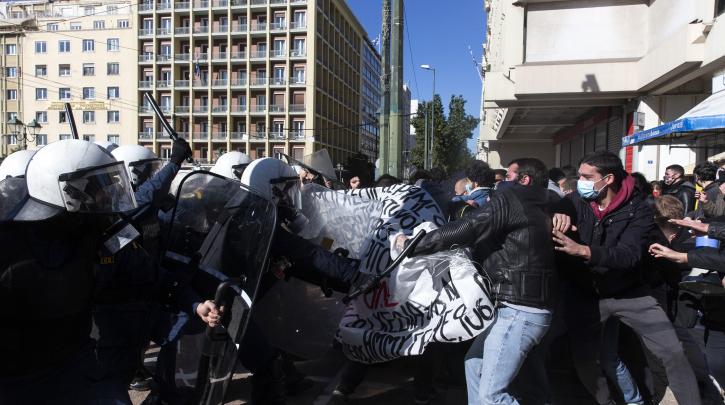 The head of the Hellenic Police (EL.AS) announced a ban on outdoor gatherings for more than 100 people from January 26 until February 1.
For the umpteenth time, using the vehicle as an excuse, a decision is taken to ban rallies. The ban comes at a time when student mobilizations are intensifying for the changes being attempted in higher education with the establishment of university police within universities.
It was preceded by bans on rallies in memory of the student uprising of 1973 on November 17, and the assassination by a special guard of student Alexandros Grigoropoulos on December 6, 2008.
After many reactions on social networks but also political and social bodies, the headquarters of EL.AS. clarified that the ban "is not related to any planned gathering".
The decision of EL.AS to ban gatherings of more than 100 people, which is a violation of human rights, comes at a time when it has been decided to open retail and schools and overcrowding is a permanent phenomenon.
Thus, by Decision of the Chief of the Hellenic Police, from 06:00 today, January 26, 2021 until 06:00 on February 1, 2021, all public outdoor gatherings, in which more than 100 people participate, are prohibited.
The decision to ban rallies took into account, inter alia, the overriding reasons in the public interest concerning the protection of public health, which consist of taking emergency measures to address the serious risk of the spread of COVID-19 coronavirus. Also the risk of further increase in the rate of spread of the coronavirus by holding public outdoor gatherings with the mass participation of individuals and the recommendation of the National Committee for Public Health Protection from 22-01-2021, where, among other things, it is proposed that the maximum number of participants in public outdoor gatherings will be 100 people.
For the offenders, subject to the application of other sanctions arising from the current legislation, the following sanctions are provided:
-administrative fine of (5,000) euro to legal entities and (3,000) euro to individuals organizing public outdoor gatherings and
-administrative fine (300) euro to persons violating the ban by participating in public outdoor gatherings./ibna