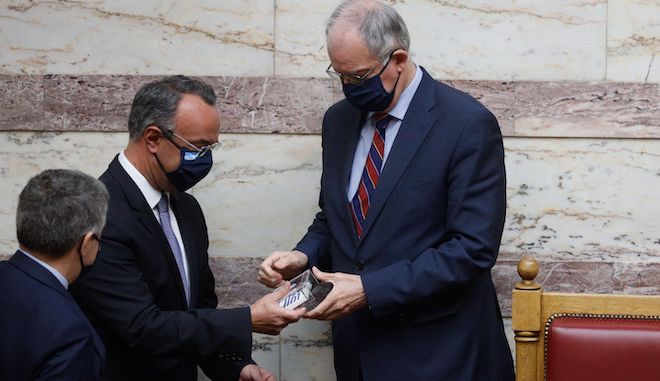 The new budget submitted today in Parliament by Finance Minister Christos Staikouras predicts a 10.5% recession this year, followed by a 4.8% growth in 2021.
According to the forecasts, there will be a recession of 10.5% in 2020, while in 2021 growth will rise to 4.8%. The primary deficit is estimated at 7.2% of GDP this year (11.760 billion euros), to be reduced to 3.9% of GDP (6.67 billion euros) next year. Meanwhile, General Government debt is projected at 208.9% of GDP this year, before falling to 199.6% of GDP in 2021.
At the same time, the budget sees an increase in unemployment to 18.9% this year from 17.3% in 2019, followed by a drop to 17.9% in 2021.
It is noteworthy that, in the context of providing support to enterprises and employees, related expenditure will "skyrocket" to 31.4 billion euros (23.9 billion this year and 7.5 billion euros in 2021). According to the Ministry of Finance, the positive impact of all measures on real GDP is estimated at 7 percentage points in 2020, of which 3.3 points refer to the last quarter of the year burdened by the new lockdown.
Imports will decrease by 17.4% this year to recover dynamically to an increase of 16.4% next year. In a similar vein, exports will record a 30.3% decrease this year, followed by a surge of 22.5% in 2021. Private investment is projected to rise "explosively" by 23.2% in 2021 from a sharp decline of 14.3% this year, while harmonized inflation will move to positive ground (+ 0.6%) in 2021, after a decline of 1,1% at average levels in 2020.
According to the budget, tax revenues will increase to 47.8 billion euros in 2021, after shrinking to 44.2 billion euros this year, while state budget expenditures will remain very high (at 67.2 billion euros), with a marginal decrease compared to this year's 69.3 billion euro.
As noted by the Ministry of Finance, the differences between the estimates of the final text and the draft state budget 2021 derive from (a) the adoption of new measures to address the effects of the pandemic, (b) the macroeconomic effects of the intensity of the second wave of pandemic and (c) the downward revision of the GDP level of previous years by the Greek Statistical Authority (ELSTAT).
The interventions placed in immediate force by the state concern 62 categories of measures amounting to 31.437 billion euros -of which 23.891 billion euros concern measures enforced in 2020, with the remaining 7.546 billion expected to affect the fiscal result of 2021- , aimed at curbing the spread of the virus and financially supporting the affected sectors of the economy.
Receiving the budget, Parliament Speaker Konstantinos Tassoulas announced that his discussion in the competent Standing Committee on Economic Affairs will be held in four consecutive sessions, which will be held in the morning and afternoon on Tuesday 24 and Wednesday 25 November, while on Thursday 26 November 2020 the second reading will take place.
The debate in the Plenary, the Parliament Speaker explained, will begin on Friday, 11 December 2020, and will be concluded at midnight on Tuesday, 15 December 2020 with the voting procedure. /ibna