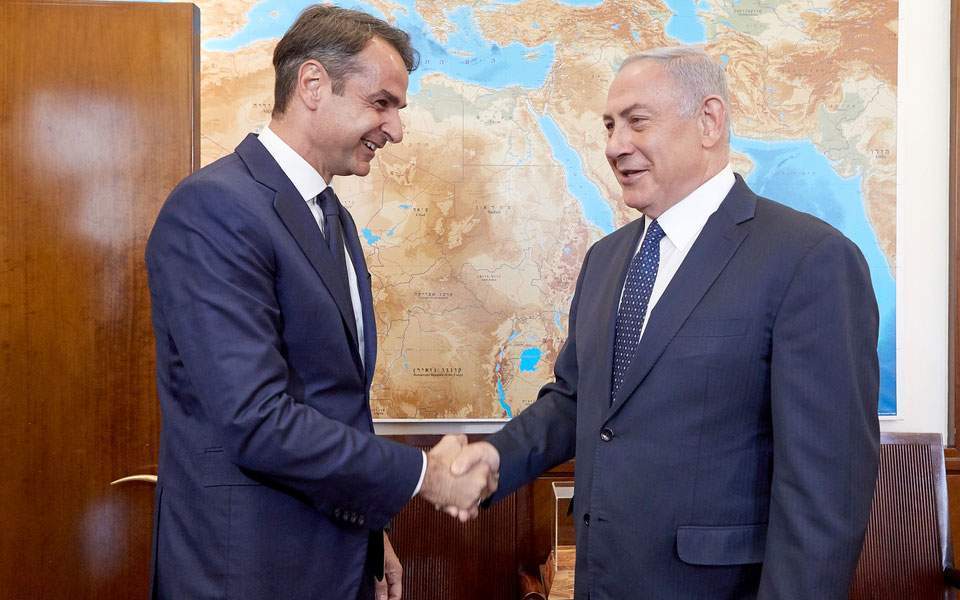 Spyros Sideris reporting from Jerusalem
Benjamin Netanyahu is expected to ask for the support of Greek Prime Minister Kyriakos Mitsotakis regarding the forthcoming annexation of territory in the Jordan Valley, according to Israeli media. In addition, local media on the agenda include economic issues and the gas pipeline, between Greece, Cyprus and Israel.
Iris Ambor, Director of the Israeli Ministry of Foreign Affairs for Southern Europe, noted in her statements about the Greek Prime Minister's visit to Jerusalem the goals and significance of the visit.
Israel is expected to ask from the Greek Prime Minister to mediate in the EU regarding the annexation and Trump's plan for peace in the region, in order to mitigate the tone of the reaction in such a case from the EU or even to avoid such statements.
In addition, Israel wants Greece to oppose any initiative to impose sanctions on Israel over the annexation.
According to Israeli media, Greece and Cyprus, countries considered friendly to Israel, face an internal problem in relation to Turkey and the northern part of Cyprus.
Compliance with international law is part of the policy of Greece and Cyprus, so according to the analysis of the data by the Israeli Foreign Minister, the official position of the two countries should be the same as the position of the EU, which opposes unilateral actions.
However, this does not prevent Israel from expecting Greece and Cyprus to help Israel, at least behind the scenes. Next week, President of the Republic of Cyprus Nicos Anastasiades will visit Israel accompanied by five ministers of the Government of Cyprus.
Although Israel's long period of political instability has created several issues in its foreign policy, IBNA reports that it has moved behind the scenes and consulted with countries in the region on the annexation of the territories of the Jordan Valley./ibna