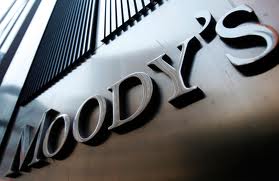 By Lefteris Yallouros – Athens
Late last Friday Moody's announced it was upgrading its credit rating from C to Caa3 because of improved results in the country's economic adjustment program.
"Moody's expects that the government will achieve (and possibly outperform) its target of a primary balance in 2013, and record a surplus in 2014 in accordance with the adjustment program," the agency said. "Based on the government's budget execution record up until October, Moody's believes that [its] deficit target is likely to be within reach."
Other reasons for the upgrade cited by Moody's included improvement in Greece's medium-term economic outlook supported by a cyclical recovery in the economy; progress made in implementing structural reforms and rebalancing the economy; and the significant reduction of the government's interest burden following previous restructurings and official sector repayment assistance.
The news has pleased the Greek government as it boosts its hopes of returning to international capital markets next year.
It is also seen as a big success of Prime Minister Antonis Samaras as his coalition government gets a "vote of confidence" by Moody's for cutting the budget deficit from over 15% to 3%.
However, analysts point out that the upgrade still leaves Greek bonds in the "junk" category, making them a high risk investment. It is also pointed out that the upgrade will be virtually meaningless if the country is not supported in covering a funding gap in 2014 and of course if it doesn't receive the next tranche of its rescue loan (EUR 1 bn) in time. Such an occurrence will diminish the positive vibes the upgrade has created surrounding the Greek recovery effort.
Talks with the troika have stalled as troika officials do not have any intention of returning to Athens before the December 9 Eurogroup.
Athens is now hoping to make substantial progress in its efforts to conclude the latest review of its adjustment program in time for the Eurogroup meeting on December 18 and the European Union leaders' summit two days later.
"We haven't worked things out, we still differ over certain issues," the Greek finance minister Yannis Stournaras told reporters. "There are differences over two or three structural reforms," he said.
The deadlock between the government and the troika over cost-cutting reforms and a looming fiscal gap is damaging the reform effort and impacting on political stability as many New Democracy and PASOK MPs are dissatisfied at the government conceding to what are considered unreasonable demands by the troika.