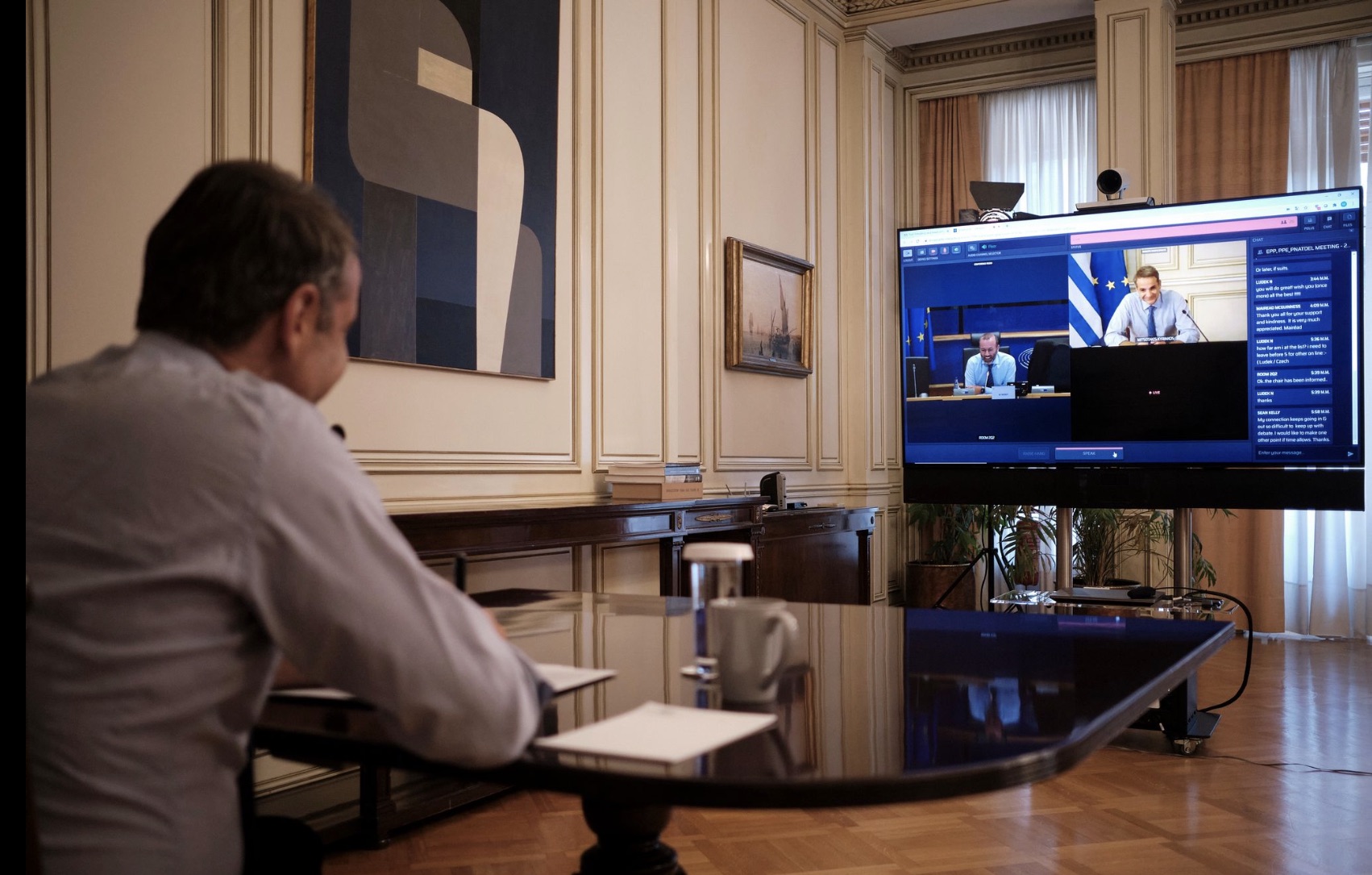 Greek Prime Minister Kyriakos Mitsotakis attended today the virtual meeting of the Presidency of the European People's Party, alongside the heads of the national delegations in the European Parliament.
During the meeting, the Prime Minister presented with evidence the provocative actions of Turkey in the Eastern Mediterranean. Kyriakos Mitsotakis voiced to EPP Parliamentary Group Chairman Manfred Weber his belief that Europe would stand neither weak nor divided in the face of Turkish provocations.
At the same time, he pointed out that Greece is firmly ready for dialogue as it has absolute confidence in its positions, noting however that real dialogue is impossible under threats or the violation of Greek sovereign rights.
The participants, including the Vice Presidents of the EPP Central Committee, expressed their unanimous support for the Greek positions. The center-right European Central Committee, in a post on its official Twitter account, stressed that it will not accept that "Turkey is pursuing an expansionist policy, destabilising the entire region".
The EPP Central Committee also noted that the Summit should set clear conditions under which economic sanctions against Turkey will be activated, stressing that if the Turkish side's provocations continue, focus should shift on Ankara's soft underbelly, that is, the field of economy.
Mr. Weber personally expressed to Kyriakos Mitsotakis his full support for Greece's actions aimed at guarding the European-Greek border and tackling Turkish aggression in the Mediterranean.
The discussion also revolved around curbing the pandemic, with participants congratulating Greece on managing the health crisis.
Given Mr Weber's clear support in Greece with regard to the Turkish provocations, it would be useful for those who previously called him anti-Greek to clarify the position of their own Parliamentary Group in the European Parliament, the European United Left (GUE), against Greece and Turkey.
Serres MP and Secretary of International Relations of the New Democracy Tasos Chatzivasiliou was also present at the video conference. /ibna