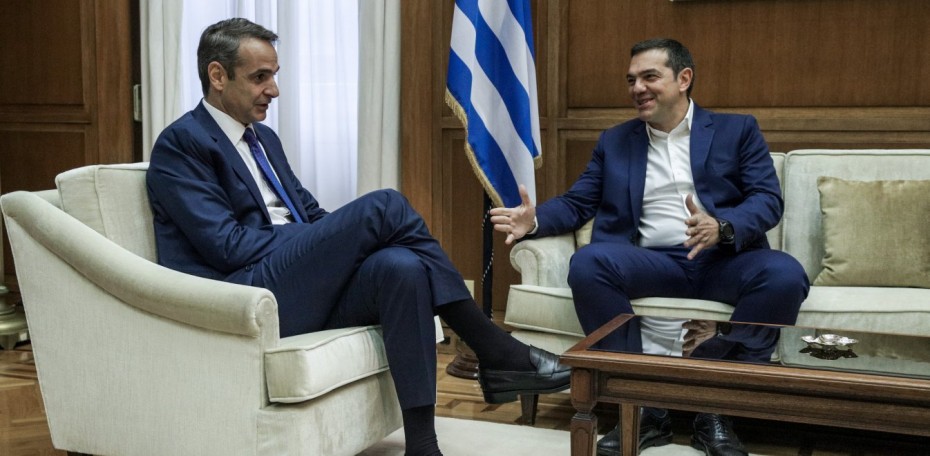 The Greek Prime Minister Kyriakos Mitsotakis will have successive meetings on Thursday, July 23, at his Office in Parliament and will inform the leaders of the Parliamentary parties about the results of the European Council and about the developments in our national issues.
The Secretary General of the Prime Minister, Grigoris Dimitriadis, contacted the Offices of the Political Leaders and the following meetings were scheduled:
-At 12:30, with the Chairman of the Parliamentary Group of SYRIZA, Alexis Tsipras,
-At 13:30, with the Chairman of the Parliamentary Group of the Movement for Change, Fofi Gennimata,
-At 18:15, with the President of the Hellenic Solution party, Kyriakos Velopoulos,
-At 19:30, with the Secretary of the MERA25 party, Giannis Varoufakis.
The meeting with the Chairman of the Parliamentary Group of the Greek Communist Party (KKE), Dimitris Koutsoumbas, will take place on Friday, July 24 at 09:30.
SYRIZA-Progressive Alliance, immediately responded to the announcement of the Government, that the President of the party Alexis Tsipras will participate, despite the fact that for months the Government refuses to formulate a national strategy with the convergence of the Council of Political Leaders, devalues ​​the National Representatives and Government Bodies, such as the Government Council on Foreign Affairs and Defence (KYSEA).
The announcement of SYRIZA-Progressive Alliance specifically states:
"After refusing to draw up a national strategy for months with the convening of a Council of Political Leaders, he devalues ​​the National Delegation by refusing to inform it, he even devalues ​​the competent government bodies, as KYSEA does not meet, Mr. Mitsotakis was forced, under pressure from the President of SYRIZA – Progressive Alliance in Parliament, to announce that he will inform the political leaders tomorrow, Thursday, about the developments regarding the Turkish provocation.
The President of SYRIZA will respond to the invitation, despite the unhealthy and divisive political climate that Mr. Mitsotakis consciously, with a plan and with the help of parastatal mechanisms, orchestrates, in order to tarnish his political opponents.
This, however, does not mean that Mr. Mitsotakis is relieved of his obligation to inform the Parliament about developments and tensions in the Southeast Aegean.
Unless he considers that the incredible phrase of his parliamentary representative: "we have taken Turkey by surprise!" is enough to inform the MPs./ibna