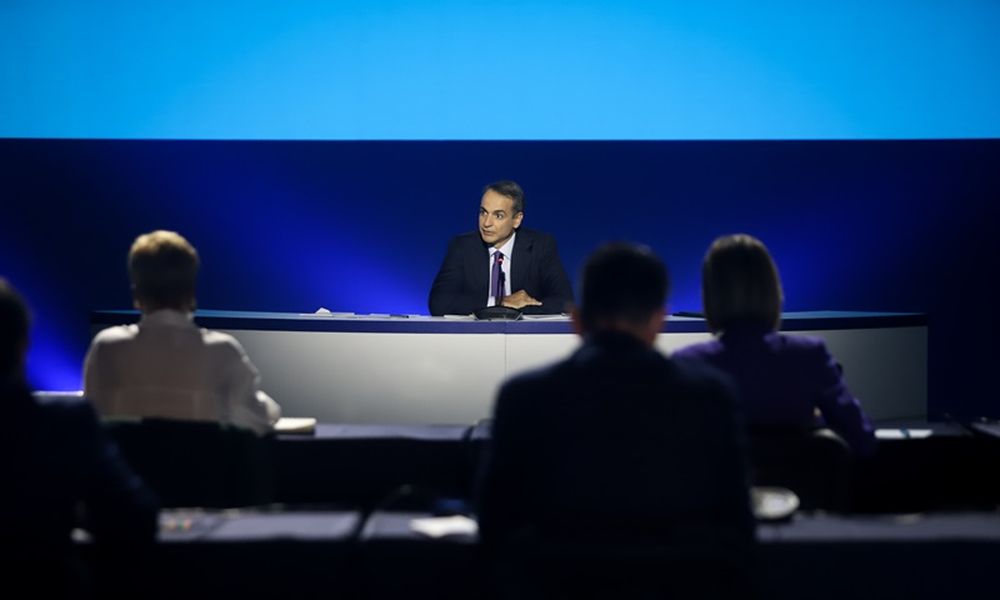 Greek Prime Minister Kyriakos Mitsotakis from the podium of the Helexpo Forum, which replaced the Thessaloniki International Fair for 2020, gave answers to all the critical questions asked during a press conference that lasted about three hours.
Greek-Turkish relations, especially after the departure of Oruc Reis from the Greek EEZ, the government's economic program with measures to support the middle class, the armament programme, with the purchase of 18 Rafale and 4 frigates, the management of the pandemic and the today's opening of schools, the refugee and the coronavirus vaccination were some of the central issues raised by the journalists who attended the press conference.
Regarding developments in the field of Greek-Turkish relations, the Prime Minister described the departure of Oruc Reis as a first positive step and noted that the Greek government expects Turkey's moves towards a de-escalation continue. The Prime Minister said he was ready to meet with the President of Turkey only on the condition that the escalation of the provocations stop and thus the dialogue on the "key difference with Turkey" begins. It is important, however, that at no point in his interview did the Prime Minister say that "our only difference with Turkey is the delimitation of the continental shelf".
Regarding the armament program, Kyriakos Mitsotakis underlined that the program announced the day before yesterday is ambitious and within the country's capabilities and assured that Greece will not enter an armaments race.
Special emphasis was placed on the issue of the government's economic program and the strengthening of the middle class, with the Prime Minister noting that priority is given to the middle class as it has been hit hardest by the economic crisis, while rejecting the opposition's accusations that the government's policy leads to a major recession. Of course, the measures he announced have great ambiguities in terms of scope and duration.
Regarding the latest events in Moria and the government's policy on the refugee issue, Kyriakos Mitsotakis stressed that Moria is a creation of the previous government and noted that the current policy implements a policy in a completely different direction.
However, what happened in Moria should be seen as an opportunity, Mitsotakis stressed. Firstly to reactivate Europe in the direction of solidarity, secondly to create a new Refuge Reception Center that will not have the negatives of Moria, which as he argued is synonymous with the mismanagement of the refugee issue, wanting to create a new reception center with much better conditions in Moria.
The reactions of the opposition parties, both major and minor, were fierce, accusing the Prime Minister of anti-popular policy, and saying he is out of touch with reality./ibna