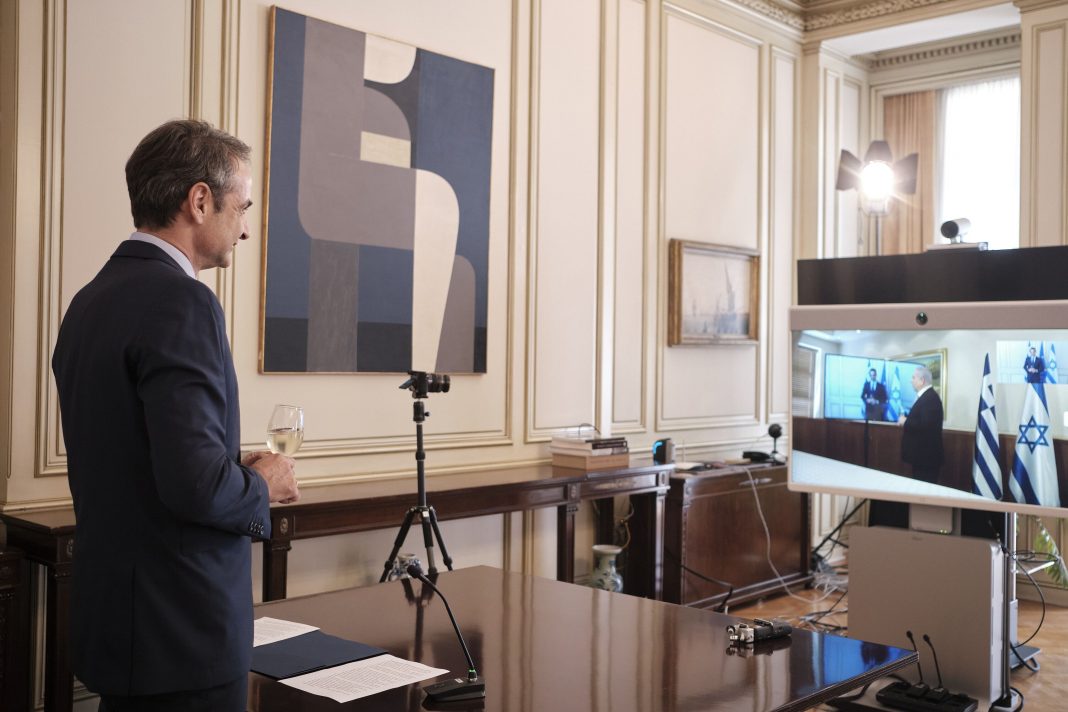 On the occasion of the 30th anniversary of the establishment of diplomatic relations between Greece and Israel, Greek Prime Minister Kyriakos Mitsotakis held a video conference with Israeli Prime Minister Benjamin Netanyahu, where they confirmed the important strategic relationship between the two countries, according to Greek sources.
The Israeli Prime Minister praised the important initiative of the then Prime Minister Konstantinos Mitsotakis since, as he said, the big step of upgrading bilateral relations took place with his contribution.
The two leaders also stressed the cooperation of the two countries in important areas but also the expansion of this multifaceted relationship in sectors such as tourism, security and defense, innovation, energy, trade and culture.
Particular emphasis was placed on the tourism sector, with Kyriakos Mitsotakis stressing that he expected an increase in the number of visitors from Israel, in view of the kick-off of the tourist season in Greece on 15 June.
Benjamin Netanyahu noted that he had noticed great interest on the part of Israeli citizens to spend their holidays in Greece, while he had heard on the news people wondering when they would be able to leave for the Greek islands and other Greek regions.
He added that, in the first instance, Israel was looking to resume flights and tourist connections with countries that are in a similar epidemiological situation, and Greece is the most obvious case. He said his government was working in that direction and expressed hope that the whole process would be completed quickly.
Israel is participating with Greece in the Smart Covid Management Group, the group of states that have successfully faced the first wave of the Covid-19 pandemic. The Prime Minister invited his Israeli counterpart to visit our country, while Benjamin Netanyahu commented that, during his last trip to Athens, he had learned that almost 1 million Israelis visit Greece every year.
Kyriakos Mitsotakis also accepted an invitation from Benjamin Netanyahu to convene the Cooperation Council of the two countries as soon as possible, as a common intention is for bilateral relations to be furthere strengthened. /ibna