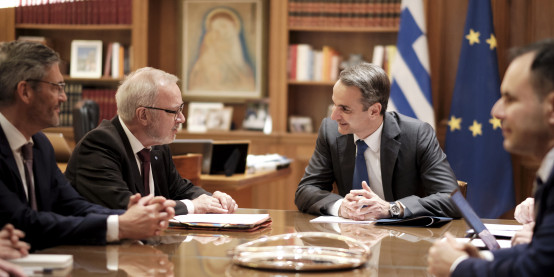 Greek Prime Minister Kyriakos Mitsotakis met on Friday at the Maximos Mansion with European Investment Bank (EIB) President Werner Hoyer.
The purpose of the meeting, held amidst an excellent climate, was to further support growth, job creation and tackle climate change in Greece through the implementation of an ambitious and multi-dimensional investment program. At the same time, EIB will play an important role in the European Commission's plan for a fair transition to a "green" economy. The Bank has pledged to "unlock" € 1 trillion in funding for environmentally friendly projects until 2030, while ending support for energy projects that utilize hydrocarbons by the end of 2021.
The Prime Minister welcomed EIB's support and the agreements signed as early as 2019 to finance a € 2 billion investment by supporting major energy and environmental projects, infrastructure and support for small and medium-sized enterprises.
Greece has outperformed almost all of its European partners in terms of per capita income. About 50% of the funding was directed to the private sector, and in particular to small and medium-sized enterprises, while the other half was utilized to support vital infrastructure projects with the co-financing of the NSRF. At the same time, EIB-backed investments now support vulnerable social groups such as farmers (to lend on very good terms) while they also reinforce environmental investments that have been delayed for several decades, such as flood projects.
The Government's plans for cooperation with EIB in 2020 are particularly ambitious with the creation of financial instruments to support entrepreneurship. In fact, within one month since 1.12020 new loans of 300 million euros for investments have been signed. EIB plans to support the Development Bank and become Greece's key ally in the NSRF 2021-27 program but also in sub-actions such as ending lignite dependency through development programs with the Ministry of Development and Investment, as well as energy and climate programs.
EIB, in cooperation with the National Bank of Greece and Piraeus Bank, today announced a € 560 million rural economy support program with special care for producers and entrepreneurs under the age of 41.
At the same time, the EIB has agreed with PPC to provide € 100 million in funding to modernize and improve the electricity distribution network in both the mainland and the island nation.
For 2020, in addition to projects under the auspices of the Ministry of Development and Investment, projects on migration, e-government and more are also being discussed. Meanwhile, the Government urges EIB to become involved in the funding of the northern part of E65, in order a link with the Egnatia Road to be made in the context of the transition to the post-lignite era.
On behalf of the Government the meeting was attended by the Deputy Minister for Development and Investment, responsible for Public Investment and the Development Framework Pact, Giannis Tsakiris; the Deputy to the Prime Minister responsible for the coordination of the government's work, Akis Skertsos; Head of the Finance Office of the Prime Minister's General Secretariat, Alexis Patelis. /ibna