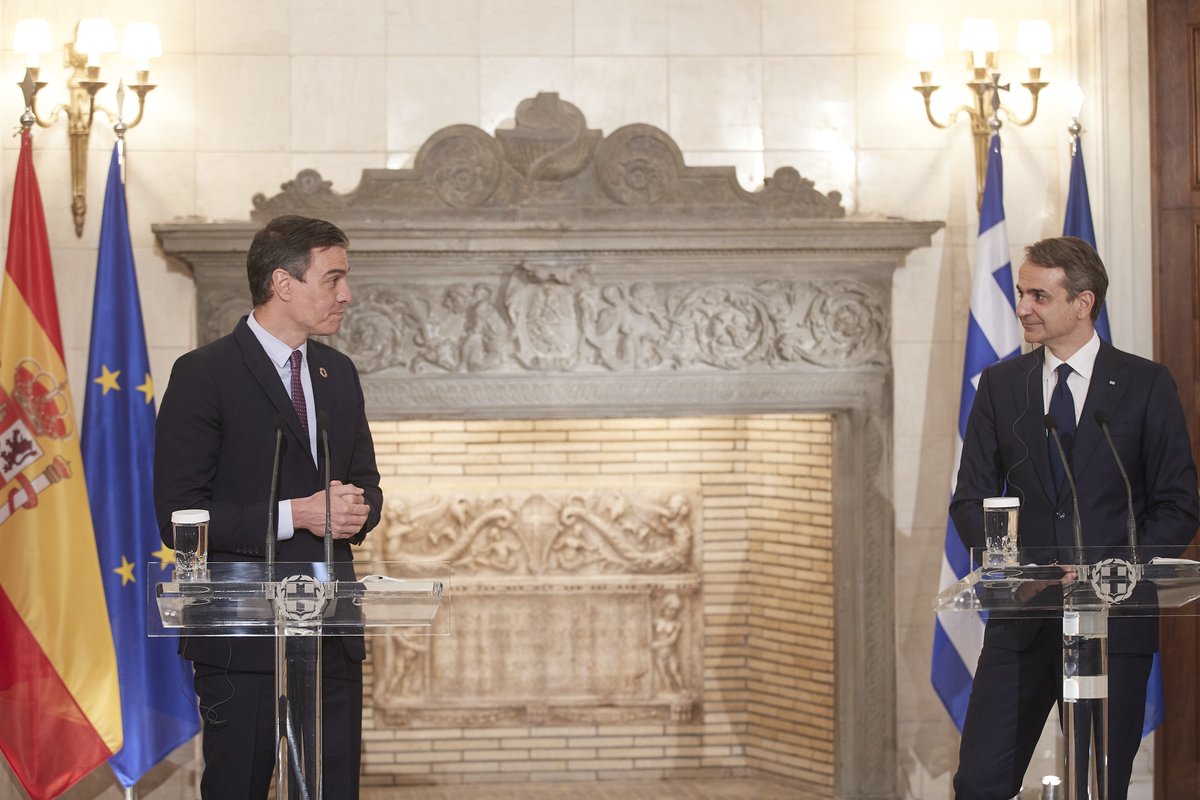 The "day after" the pandemic, the European green certificates for vaccination and proposals for a waiver of vaccine patents were discussed during the meeting between Prime Minister Kyriakos Mitsotakis and his Spanish counterpart Pedro Sanchez on Monday in Athens.
"Many things connect the two countries. History, the Mediterranean and, equally, a faith in international law and in modern, open democracy," the Greek prime minister said in joint statements with Sanchez after their meeting.
"We especially concerned ourselves with the [post-pandemic period]. It is very significant that a European Green Certificate is being promoted now. It is a choice that I had personally proposed and Spain had immediately supported. It is a passport for the freer movement of citizens and a crucial link in the chain of tourism," Mitsotakis said.
The prime minister also referred to the EU's reaction to the pandemic, saying that "we acknowledged its many good moments and its few bad moments", adding that the former must now be directed toward assisting the vaccination of third countries.
Mitsotakis said the goal now was a rapid increase in global vaccine production, adding that a waiver of intellectual property rights on vaccine patents might be only a part of the solution but it was an important aspect of the problem. The goal, he added, was how to allow the increase of more vaccines and their unobstructed export to the countries that need them.
The Greek premier said there were significant margins for further developing bilateral relations with Spain, noting that both countries were among the first to submit their national plan to the EU Recovery Fund, making bold steps toward green growth and the digital transition, while having a joint interest in the social pillar.
He said their discussion had also focused on Turkey's behaviour, noted Spain's interest in Libya and that it shared Greece's interest in legality in the Mediterranean, rejecting provocations like those of Ankara in the Aegean and Mediterranean.
"The Greek position is fully understood. All objections stop only when the behaviours that cause them stop. Each difference has only one path for resolution, that of discussion, and every discussion has a framework, which is that of international law and the European acquis," Mitsotakis added.
He also noted the two countries' common positions on migration and said both governments shunned populism while supporting reforms.
Sanchez, on his part, congratulated the Greek government on the great speed of its vaccine rollout, the Greek people on the country's bicentennial anniversary and said that Spain had felt the solidarity of the Greek government and the Greek people during the pandemic. He noted that one quarter of Spain's population was now vaccinated and six million Spaniards had received both doses of the vaccine.
He acknowledged the Greek government's "excellent work" in preparing its proposal to the European Commission and said bilateral relations with Greece were "excellent" and can be made even closer, especially in trade./ibna
Source: AMNA