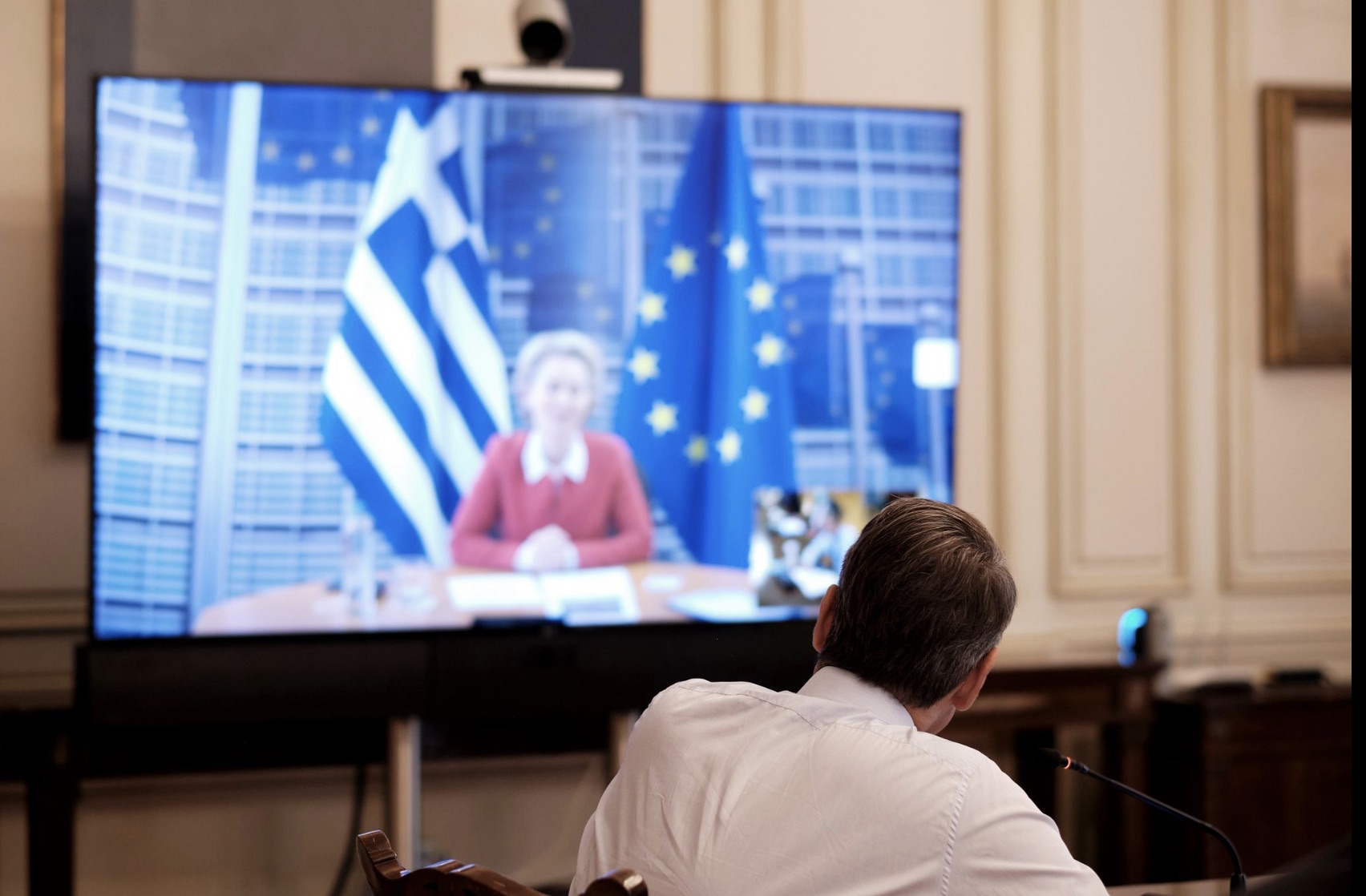 Due to the restrictions and precautionary measures that have come into force due to the coronavirus pandemic, the Prime Minister of Greece Kyriakos Mitsotakis and the President of the European Commission Ursula von der Leyen spoke via video conference on October 8, instead of meeting in Athens was as originally scheduled.
They agreed that Europe needed a predictable, fair and resilient system for managing migration, which would strike the right balance between sharing responsibilities and solidarity, and fully protecting European values ​​and fundamental rights, including the rule of law. They pledged to work together in this direction, based on the Commission's proposals for the New Pact on Immigration and Asylum. The Greek side stressed the need for the New Pact to take adequate care of the pressure on the frontline countries.
Both sides pointed out that the situation on the island of Lesvos is still urgent after the fires in the refugee camp of Moria. They praised the prompt response of the Greek ambulance crews and recognized the key role of European direct assistance.
They noted the significant joint efforts made over the last nine months to deal with overcrowding and to improve conditions on the islands, including the European program for the relocation of unaccompanied children. They also acknowledged that more work needs to be done together to ensure the protection of those on the islands and to address the impact on local communities, which have come under considerable pressure in recent years.
In this context, they pledged to support the work of the Task Force set up by the Commission and to launch a joint process for migration management and asylum procedures, including the establishment of appropriate new facilities in Lesvos. This reflects the proposals of the New Pact and recalls both the need for continued strengthening of the Greek immigration and asylum system based on European principles, as well as European solidarity.
The discussion also focused on the strategy through which it will be ensured that Greece and the entire European Union will be able to emerge stronger, economically and socially, from the pandemic. Like other Member States, Greece will benefit greatly from NextGenerationEU, including the Recovery Fund which aims to support the EU's common priorities while meeting the specific needs of the Member States. They welcomed the ongoing close co-operation between Greece and the Commission and said they looked forward to the presentation of the draft proposals for Greece's recovery plan in the coming weeks. Both sides expressed confidence that the plan will reflect an ambitious reform and investment agenda towards a greener, more digital and more inclusive development, for the good of the Greek people, especially the younger generation.
Finally, the two leaders also discussed the situation in the Eastern Mediterranean, especially in light of the latest worrying developments concerning Varosha, and reiterated that full respect for UN Security Council resolutions remains essential. They expressed their determination to act on the conclusions of the October 2 European Council, reiterating that Turkey must take the necessary steps to reduce tensions in the region, and enter into a constructive dialogue with Greece, Cyprus and the EU. Finally, both look forward to the forthcoming discussions at the level of European Council meetings./ibna