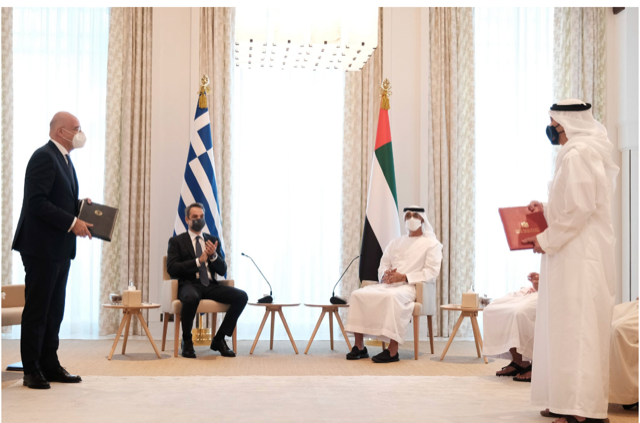 The strengthening and upgrading of bilateral relations at a strategic level was sealed by the meeting of Prime Minister Kyriakos Mitsotakis and the Greek delegation with the Crown Prince of the United Arab Emirates, Sheikh Mohammed Bin Zayed Al Nahyan and the UAE mission.
The two leaders expressed a strong desire to strengthen economic relations, in line with the political and defence cooperation between the two countries, a fact that emerges from the strategic choice to further deepen relations at the political and economic level.
During the meeting, an in-depth review of the rapid progress made in recent months in bilateral relations and the whole spectrum of bilateral cooperation was discussed, while developments in the Eastern Mediterranean region were discussed with emphasis on Turkey's destabilizing behavior.
The most important aspects of the strategic cooperation between Greece and the United Arab Emirates were discussed, which is sealed with the Joint Declaration of the two governments, as well as with the signing by Foreign Minister Nikos Dendias of the Joint Declaration of Strategic Partnership between Greece and the UAE and finally with the bilateral Agreement in the fields of foreign policy and defence.
The signing of the agreements demonstrates the identity of the positions on both sides in the face of the common challenges the two countries are facing at regional level and upgrades the relations between the two countries at a strategic level in all areas of mutual interest.
The agreement on cooperation in the areas of foreign policy and defence provides, inter alia, for the establishment of a High Level Committee, which will oversee its implementation, as well as the strengthening of defence cooperation on the basis of the 2007 military cooperation agreement.
The upgrade and deepening of the relations between Greece and the UAE gives a new perspective to the strengthening of the regional multilateral cooperation schemes that move on the same strategic axis, with the aim of consolidating the climate of stability and peace in the wider region, at a time when Turkey, with a series of illegal actions, jeopardizes regional security.
The Greek side was represented by the Minister of Development and Investment, Adonis Georgiadis, the Minister of Foreign Affairs, Nikos Dendias, the Deputy Minister of Foreign Diplomacy and Extroversion, Konstantinos Frangothiannis, the director of the Prime Minister's diplomatic office, Ambassador Eleni Sourani, and the Ambassador of Greece to the United Arab Emirates, Ambassador Dionysios Zois./ibna