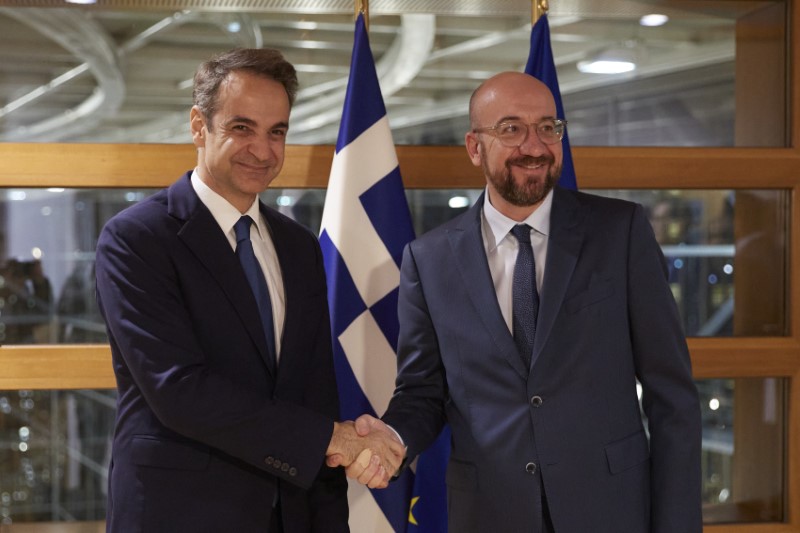 Greek Prime Minister Kyriakos Mitsotakis had a telephone conversation today with the President of the European Council Charles Michel.
During the communication in view of Charles Michel's visit to Athens on 15 September and the European Council meeting, the tense situation in the region due to Turkey's provocative actions and the European response to them were discussed.
Charles Michel reiterated the full EU solidarity to Greece and Cyprus.
On Sunday, the President of the European Council had a telephone conversation with the President of Turkey Recep Tayyip Erdogan in the context of the growing tensions in the Eastern Mediterranean.
According to diplomatic sources, Charles Michel stressed the importance of de-escalating tensions and called on Turkey to refrain from activities that fuel tensions.
He further stressed that the EU is in full solidarity with Greece and Cyprus, adding that the EU wants to have a constructive relationship with Turkey.
Charles Michel will discuss the situation in the Mediterranean as well as all EU-Turkey relations at his meeting, where all measures will be taken into account. The President of the EU also called for a multilateral conference on the Eastern Mediterranean with the aim of finding a peaceful solution through negotiations.
In a statement issued by the Turkish Presidency during a meeting with the President of the European Council, the Turkish President raised the issue of provocative European policies on regional issues that will not serve as a solution.
Recep Tayyip Erdogan also said the EU's stance on the Eastern Mediterranean would be a test of sincerity in international law and regional peace.
The Turkish leader urged the EU to fulfill its obligations fairly and to prevent the steps of Greece and some EU member states that increase the tension in the Eastern Mediterranean and the Aegean.
Recep Tayyip Erdogan also called on the EU institutions and Member States to remain "fair, impartial and responsible in all regional matters"./ibna