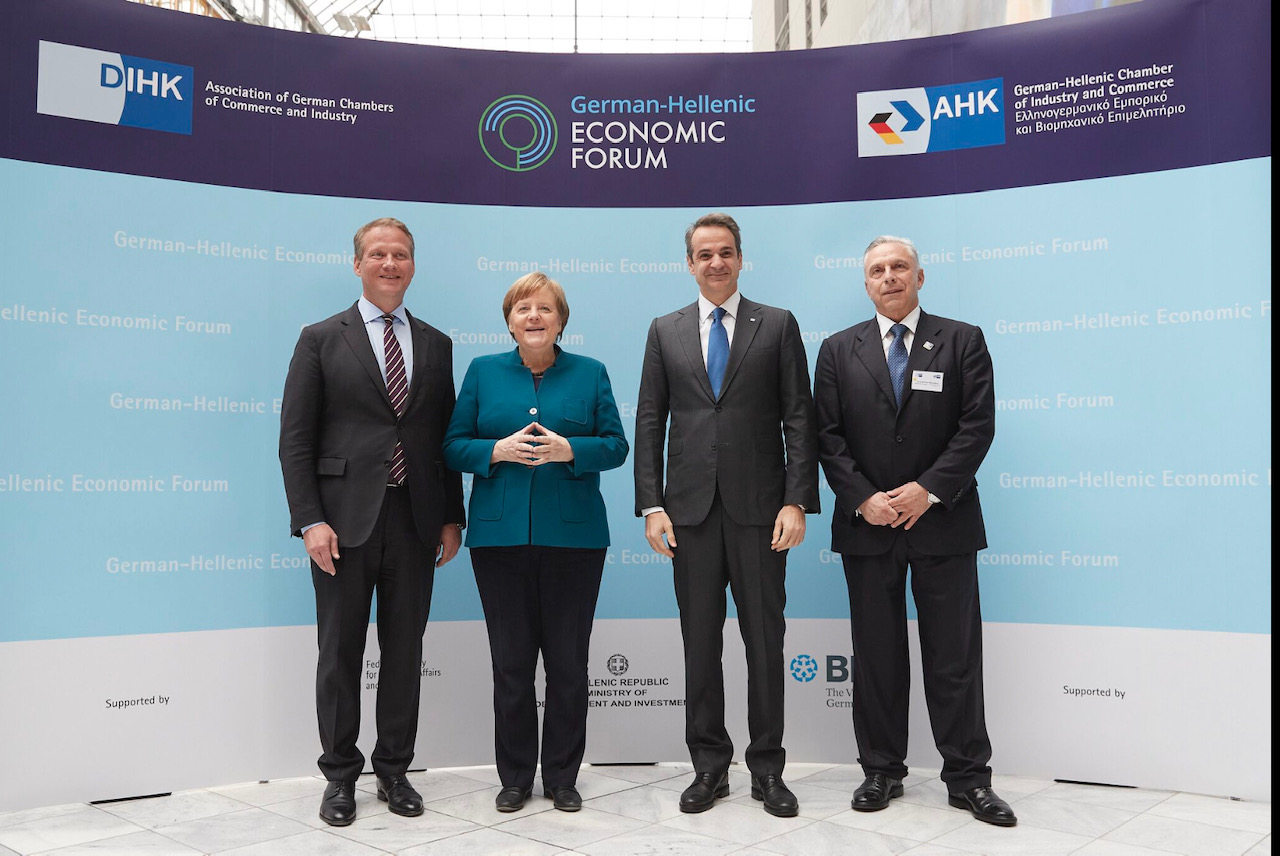 Greek Prime Minister Kyriakos Mitsotakis met with German Chancellor Angela Merkel in Berlin, in an excellent climate, according to Greek government sources.
The Greek Prime Minister briefed Angela Merkel on the latest developments in the organized, mass, attempted illegal entry into European territory of people from Turkish territory, which has been ongoing since 28 February.
Kyriakos Mitsotakis, according to government sources, stressed the direct and indirect involvement of the Turkish authorities in the creation and continuation of this massive attempt to infringe on European borders, as well as the deterioration of the situation by the also organized fake news campaign.
A typical example of this, the Greek PM underlined, is the images that have been circling the social media, of a Turkish military vehicle funded by European Union funds trying to demolish the fence protecting the Greek and European borders in the Evros region.
For her part, the German Chancellor noted that the EU-Turkey Joint Declaration of March 2016 concerns not only the money Turkey receives from Europe but also the respect for its obligations. She also stressed that the refugee – migration issue concerns the very existence of the European Union.
The two leaders, always according to the same government sources, agreed that the time between now and the European Summit of 26 March should be used in a constructive way, starting from the de-escalation of the provocative actions by Turkey.
The need for improvement in the European Union – Turkey Agreement was also discussed. As, for example, with the joint patrols of the coastguard with Frontex, not only in Greek but also in Turkish territorial waters, in order to control the flows, as well as the return of Greeks to Turkey not only from the Aegean islands but also from inland.
The issue of addressing the effects of coronavirus on both Public Health and the Economy was also discussed. The Prime Minister noted that in 2020 due to the coronavirus disease, economic activity will be affected at both European and World level, and added that it is the responsibility of leaders to take all necessary measures to protect the population and especially vulnerable groups. Since the epidemic and these measures have financial costs, concerted action is needed and the costs of taking fiscal measures should not be taken into account in the primary surplus objectives of the Member States. The Chancellor emphasized that the realization of these costs should be uniform at EU level.
The two leaders discussed the new Multiannual Financial Framework, and the Prime Minister noted the need for sufficient Community budgetary resources to finance both traditional Cohesion and Common Agricultural Policy policies, as well as the new challenges of Climate Change and the refugee – migration problem.
Concerning the work of the Hellenic-German Economic Forum, the two leaders referred to boosting economic and commercial co-operation between the two countries, but also to expanding into new, dynamic sectors, such as green energy, renewable energy (RES), pharmaceutical technology and the rural economy. Kyriakos Mitsotakis presented the Government's plan for the country's transition to clean energy, which aims to attract investors, as well as create thousands of jobs aimed at the productive prosperity and local prosperity at a regional level./ibna