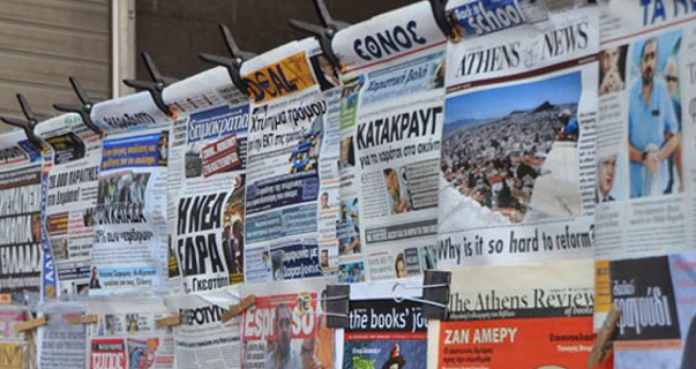 Citizens hold negative perceptions of journalism and the Greek media, as reflected in a research by the postgraduate program of the Departments of History and Informatics "Historical Research, Teaching and New Technologies" published by the Editors' Journal (Efimerida ton Syntakton).
According to the survey results, 84.6% of the participants believe the media serve business or other kinds of interests. At the same time, almost eight out of ten believe that journalism is not objective. Only newspapers among all types of media garner the respondents' respect, with some of them, however (a percentage of 27.7%), stating that they never buy newspapers.
In particular, more than 8 out of 10 respondents question the independence and impartiality of the media, stating that they serve interests. Similarly, 46.7% consider that journalism in Greece is "a little objective", 31.6% "not at all objective", while on the contrary, only 18.6% and 1.9% believe it is "quite objective" and "very objective" respectively.
Nearly 7 out of 10 say they were more informed by the media during the coronavirus crisis. Specifically, 65.7% answered that they were informed more, 22.1% the same as before, 10.5% less and only 1.8% were not informed at all.
Television and websites were highlighted as the main channels of information for citizens regarding the news and developments concerning the progression of the virus in Greece.
When asked about the sources from which they were informed, 72.7% of the participants answered from television and 63.2% from websites. Social media also holds a strong percentage at 51.1%, while the dynamics of radio is smaller with 16.6%, and the influence of newspapers is minimal, at 8.8%.
More specifically, 39.3% state that television was the main source of information, followed by news websites at 36.3%; social media accounted for 18.7%, while 3.8% chose the radio and only 1.6% newspapers.
Although, according to the respondents, newspapers are considered the most reliable medium with 42.3%, since they are viewed as prestigious and respectful and with 1 in 2 (50.3%) disagree that newspapers are obsolete and outdated, parallelly one in two (51.9%) did not buy a newspaper during the coronavirus crisis. Meanwhile, almost one in three (27.7%) answered that they do not buy newspapers in general.
The online research of the Ionian University, under the scientific guidance of the Vice Rector, Professor Konstantinos Angelakos, was carried out during the first phase of the coronavirus pandemic and seeks to explore new trends and concerns in the field of information, at a time when the media are called upon to take a key role, due to the special circumstances imposed by the pandemic. The two main elements that emerged as conclusions were the low credibility of the press in the eyes of the citizens, alongside the dominance of television and the internet over the rest of the media.
"This research, especially during the pandemic period, confirms: first, the formation of a relationship of dependency between the public and electronic media in the Age of Image, which through strong controversy clearly undermines the relationship with newspaper reading; meanwhile, unfortunately, there appears to be a lack of intense concern regarding the epidermal or disorienting nature of a significant portion of the information provided by the internet", the professor of the Ionian University and editor-in-chief of the magazine "Nea Paideia", Konstantinos Angelakos commented. "Secondly", he adds, "it highlights the emergence of a top-notch contradiction as participants, while strongly questioning journalism as biased and the media as dependent, are at the same time inadvertently or passively seeking this kind of information". /ibna