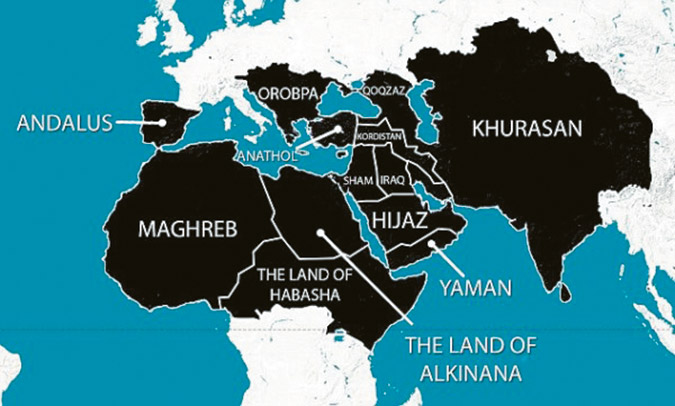 By Spiros Sideris – Thessaloniki
The aftermath of the conflict between the Islamic extremists of ISIS («Islamic State of Iraq and the Levant") and the forces of Assad, Iraq and the Kurds reaches Greece.
The competent Greek authorities are concerned about the possibility of Islamic extremists nuclei already being active in the country, the main object of which is to help and support people from western countries who seek to reach the southeastern border of Turkey, in order to enlist in the ranks of the "Islamic State".
Reportedly, they are citizens of countries belonging to the Schengen zone and who, after arriving in Greece, travel by boat to one of the border islands of the Aegean, which maintain a direct connection, by sea, with the opposite coast of Asia Minor.
Then, through Turkey, they move to the war fronts in Iraq and Syria, thus thickening the ranks of Islamic extremists. These people are mostly citizens of Arab origins, who have acquired the nationality of a member state of the European Union. It should be noted that in this context, for several weeks now, in several European countries there are ongoing extensive operations against jihadists.
In regard to Greece, at present, as indicated by relevant circles, the greek authorities are under control and monitor the movements of certain extremist elements of the Muslim community. Furthermore the expansionist aspirations of Islamic extremists of ISIS do not exclude Greece nor Cyprus, since a recent map released on the Internet includes them among the territories they intend to conquer!
As far as Cyprus is concerned, indeed, members of the organization aim to establish in the near future an "operational base". According to preliminary calculations, at the side of the jihadists operating in Iraq and Syria, it is estimated that thousands of fighters have European roots, some of who penetrated to Syria and Iraq through the Turkish border. Some of them come from the Balkans, with Albania, Kosovo and Bosnia having the lion's share, despite the efforts of the official authorities there to monitor the effect by criminalizing the participation of citizens in fighting conducted ​​in third countries.