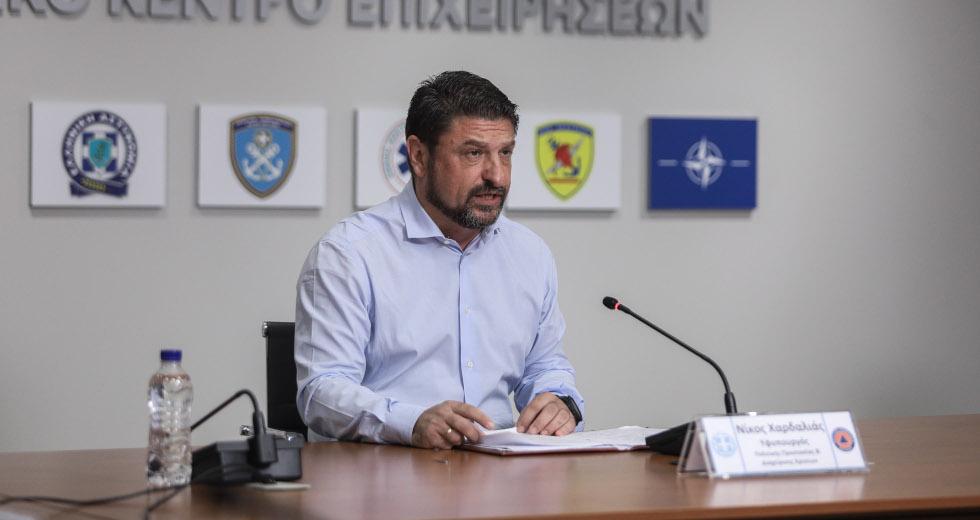 A bundle of additional protective measures and laws was announced by the Deputy Minister of Civil Protection, in the aftermath of the big leap in infections.
Additional protective measures and rules were announced by Greek Deputy Minister of Civil Protection Nikos Hardalias, during an emergency briefing after the rapid increase in the number of coronavirus cases recently. Consequently, the use of a mask becomes mandatory in all indoor areas until August 31.
Nikos Hardalias clarified that the measure extends to places of worship, while announcing the strong recommendation of experts for the use of masks in outdoor areas until August 15.
According to what Mr. Hardalias announced, starting Saturday, August 1st to August 15th, visits to care centers for the elderly, the homeless and hospitals, as well as medical visitors to hospitals are suspended.
From Monday, 3 August to 15 August, no more than strictly 100 people will be allowed to gather at social events (weddings, funerals, baptisms, etc.).
Walk-up bar service at bars and nightclubs is also banned, while the ban on festivals and other events in open spaces is extended until August 31.
The protective measures on private pleasure boats and commercial tourist ships are extended until 31/8.
An extension until 31/8 is also provided for the protective measures currently in force in Reception and Identification Centers.
The general decision for social distancing measures is extended until 31/8.
In addition, the suspension of air and sea connections with Turkey, Albania and North Macedonia is extended until 15/8.
The decision on land connections (border entry points/negative PCR test 72 hours for Promachonas) is also extended until 15/8, as well as the decision on a negative PCR test 72 hours before arrival for those arriving by air from Bulgaria, Romania and the United Arab Emirates (until 15/8).
Finally, from 1/8 to 15/8 there is a strong recommendation for the use of a mask outdoors, when it is not possible to keep distances.
According to the announcement of the National Organization of Public Health, 78 new cases of the novel coronavirus were announced today in the country, 10 of which were detected after tests at the gates of the country. The total number of cases amounts to 4,477, of which 54.8% are men. 1,267 (28.3%) are considered to be linked to travel from abroad and 2,218 (49.5%) are related to an already known case.
Meanwhile, 9 citizens are being treated by intubation. Their median age is 53 years. 2 of them (22.2%) are women and the rest are men. 55.6% have an underlying disease or are elderly 70+ years. 127 patients have been discharged from the ICU.
Finally, 3 more deaths have been recorded, with the death toll rising to 206 across the country. 66 (32.0%) were women and the rest were men. The median age of death was 76 years and 96.1% had an underlying disease and/or were aged 70+ years. /ibna