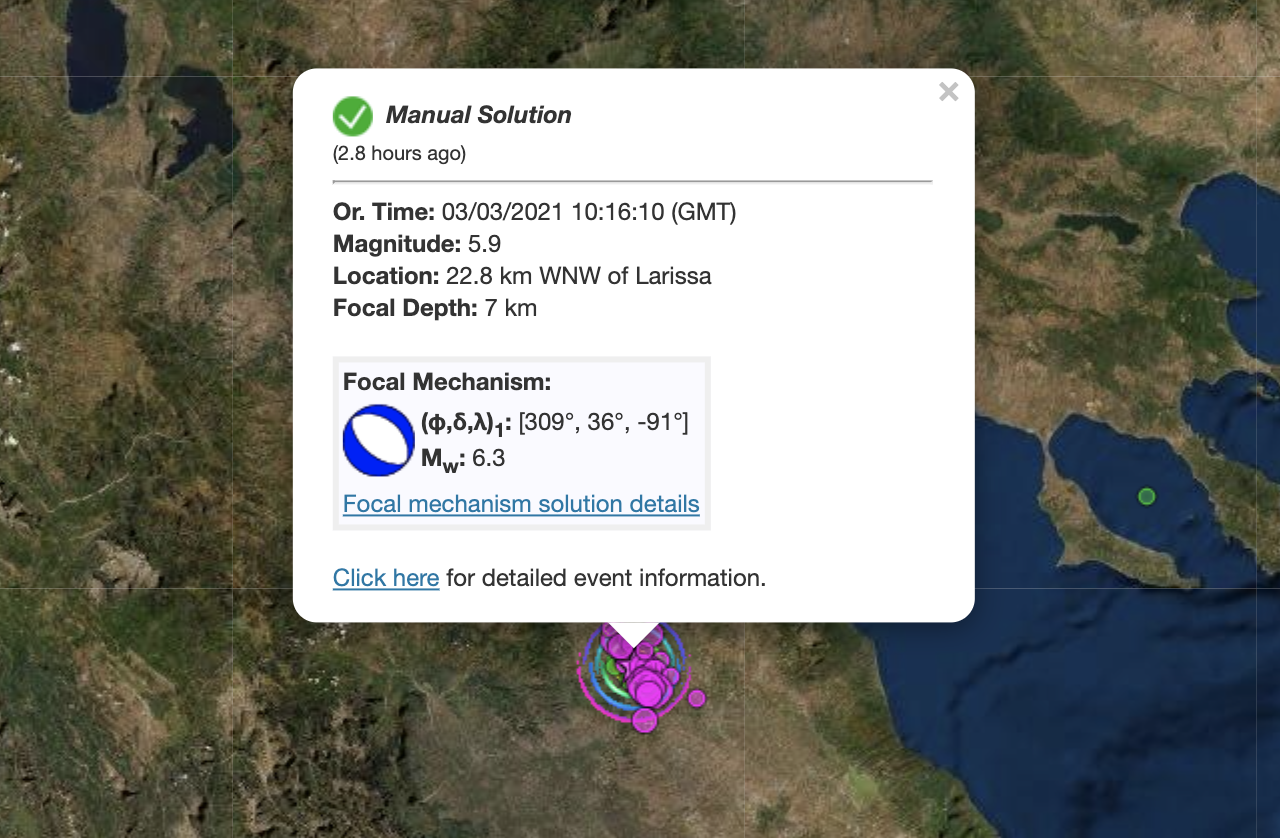 A strong earthquake magnitude 6 on the Richter scale was recorded in central Greece on Wednesday afternoon. The vibration was particularly felt in the Region of Thessaly, as well as in Thessaloniki, Athens and neighboring countries.
According to the official announcement by the Institute Geodynamic of the National Observatory of Athens, the epicenter of the earthquake was located 16 kilometers south-southwest of Elassona. The magnitude of the earthquake was initially announced at 5.9 Richter, but was soon revised upwards.
Efthymios Lekkas, professor and president of the Earthquake Planning and Protection Organization (EPPO), pointed out to the Athens-Macedonian News Agency, the depth of the epicenter of the earthquake was very small at 7.8 km and that is was it was particularly felt. The duration of the earthquake was particularly long at 12-15 seconds.
It was preceded by two earthquakes of magnitude 2.7 and 2.9 on the Richter scale, while after the strong earthquake dozens of aftershocks were recorded close to magnitude 5.
"The rift in the area has caused earthquakes in the past. The most recent was in the 18th century. It was in 1781, with a magnitude 6.2 on the Richter scale. The earthquake that took place today is approximately at the threshold of the earthquakes recorded in this region," said Manolis Skordilis, Seismology Professor at the Aristotle University of Thessaloniki (AUTH) .
Thousands of residents fled the streets, while communication networks have faced serious problems due to network congestion. So far, many old houses and churches, as well as the walls of a school have collapsed, while three injuries have been reported.
A government unit has been dispatched to the area following an order by Prime Minister Kyriakos Mitsotakis. The delegation comprises Deputy Minister to the Prime Minister Theodoros Livanios, Secretary General of Infrastructure George Karagiannis and Chief of the Hellenic National Defence General Staff Konstantinos Floros. Also present are the National Commander of Civil Protection,Theodosios Dimakogiannis, as well as Deputy Chief of the Fire Brigade, Lieutenant General Iakovos Kleftospyros.
In addition, a helicopter of the Fire Brigade is carrying out aerial surveillance of the wider area to detect possible damage and immediate intervention, while a Hellenic Fire Service special team drones is approaching the area to map any landslides and collapses of buildings. /ibna