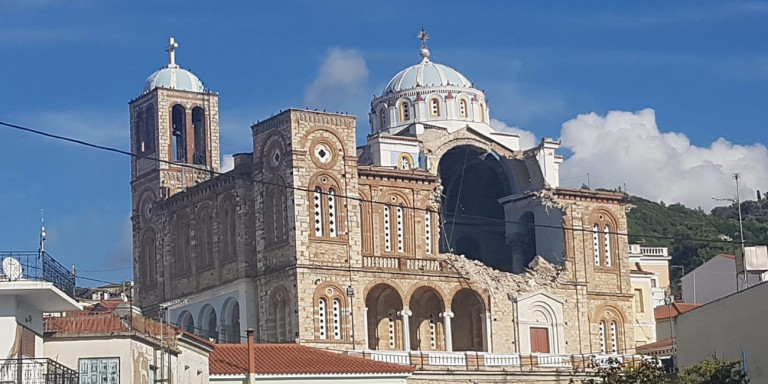 Two people have died and 8 were injured after a powerful earthquake of a 6.7 magnitude on the Richter scale struck the Eastern Aegean, centered 19 kilometers northeast of Samos, resulting to excessive material damage.
The strong earthquake had a long duration, causing material damage to the island of Samos, with the collapse of old buildings and damages to newer ones.
Unfortunately, long after the main earthquake, two children aged 15 and 17, a boy and a girl, were crushed by a wall in Vathi, Samos and lost their lives.
The injured were hospitalized with fractures, with a 14-year-old boy being transferred via a C-130 transport plane due to the severity of his injuries, as he is multi-injured and needs intensive care. According to information, a 60-year-old woman was transported along with the 14-year-old.
The church of Panagia Theotokos in Karlovassi was severely damaged, as part of the church collapsed.
After the main earthquake, a total of 84 aftershocks were recorded, with the largest reaching a magnitude of 5.1 on the Richter scale.
The news of the two dead children in Samos, who were crushed by a wall after the earthquake, shocked the country, with ordinary citizens and state officials expressing their sorrow for the tragic event.
The President of the Hellenic Republic Ekaterini Sakellaropoulou tweeted her condolences to the families of the victims.
"Our condolences and thoughts go out to the families of the earthquake victims in Samos and Izmir. Human tragedy knows no borders. We wish the least possible losses and our duty is the immediate support toward the island", the President of the Republic tweeted out.
Greek Prime Minister Kyriakos Mitsotakis expressed his condolences to the victims' families on Twitter.
"Words cannot describe how one feels about the loss of children. In these difficult times, our thoughts are with their families and the unbearable pain they experience in the tested region Samos. I express my most sincere condolences", the Prime Minister posted.
"Today is a difficult day, primarily for the society of Samos, but also for the whole of Greece", Alexis Tsipras stressed in a Facebook post. The SYRIZA chief states that "unfortunately, the earthquake that was felt early in the afternoon in a large part of our country, proved to be deadly. Two young children lost their lives and there are no words at this time". /ibna