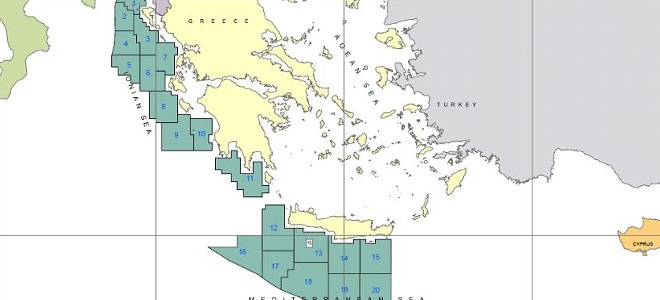 By Lefteris Yallouros – Athens
A two-day event kicked off in London on Tuesday where Greece presented opportunities of oil exploitation in the Ionian and Aegean Sea to foreign investors.
Major oil companies turned up at the roadshow which is expected to lead to offshore drillings in Greece after years of planning without any concrete results. Representatives from BP, Shell, Total and ExxonMobil among others expressed interest.
Also present were Greek firms Hellenic Petroleum, and Energean Oil & Gas.
Greek Energy minister Yannis Maniatis presented a plan under which oil and gas explorers will pay 25% tax, down from 40% currently, and 5% of the tax will go to local communities.
"We have done this in order to provide incentive to our investors to invest in the future of Greece," the minister said.
The tender will be officially published in order to allow oil and gas producers to bid for licenses covering 20 blocks located south of Crete and in the Ionian Sea, in a combined area of more than 200,000 square kilometers. Nine of the blocks are located off the island of Crete which is thought to be the richest of the areas to be exploited.
The deadline for submission of tenders is at end of December 2014.
Greece spent 15.6 billion euros to import fuel last year as the country relies on imports for almost all its oil and natural gas. Discovering large hydrocarbon reserves is hoped would lead to greater energy autonomy and income to help the country's economic recovery.
Up until recently, Greek areas both onshore and offshore remained unexplored with only few seismic studies and very few wells drilled. Analysts point out that despite the hype there is a remote possibility that large deposits will be not be found and that in any case Greece's oil and gas future depends on shaping and implementing a long term energy plan.
Greek Prime Minister, Antonis Samaras has spoken of strong indications of rich hydrocarbon fields across Greece that could generate up to 150 billion euros in the long term. Surveys conducted by Norwegian company PGS (which were also presented by Maniatis in London) investigating areas stretching from Corfu to Southern Crete, have been deemed "encouraging" by the Energy ministry.
Athens earlier this month granted concessions to explore and exploit possible hydrocarbon deposits in three separate on and offshore areas to groups including Hellenic Petroleum, Energean, Edison and Petroceltic.
Last month, Maniatis also approved a request by Italian energy giant Enel to search for hydrocarbons in another three onshore blocs in Western Greece and Epirus.