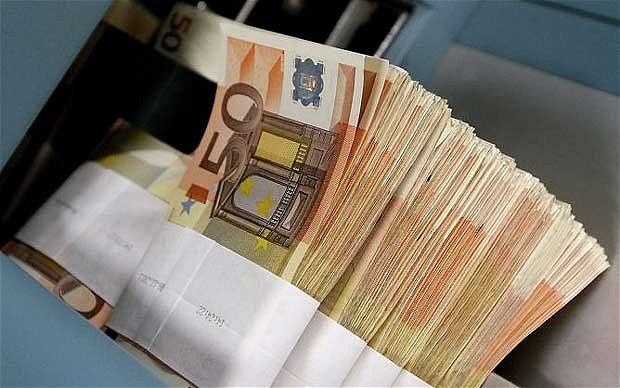 By Lefteris Yallouros – Athens
A Euro Working Group meeting in Brussels approved Thursday the release of EUR 6.3 billion in bailout funding for Greece.  The loan tranche will be disbursed to Greece as the country officially achieved a primary surplus in 2013, which was also approved by the Brussels meeting.
The European Financial Stability Facility (EFSF) announced that it would be transferring EUR 6.3 billion to Greece, taking the total it has lent the Greek government to 139.9 billion euros. Two further tranches of 1 EUR billion each are due to be released in the weeks to come as long as Greece meets reform targets agreed with the troika.
Debt Relief
The Greek government took the opportunity to launch a formal request for debt relief. Greece's EU allies agreed in November 2012 to grant the country debt relief once a primary surplus was reached.
IMF spokesman Gerry Rice said on Thursday that he expects talks on debt relief to take place in the second half of this year.
"The timeline that we're now on for those discussions is orderly and I think will enable the international community to support Greece's continuing recovery," Rice stated.
The country's debt reached 175.1 percent of gross domestic product in 2013, up from 157.2 percent a year earlier, the EU's statistics office said earlier this week. Clearly at very high levels, euro-area finance ministers could kick-start discussions on debt relief for Greece as soon as May 5, at their next meeting.
Prime Minister Antonis Samaras remains optimistic that by 2015 Greece would also have achieved a fiscal surplus and would be able to pay off its debts without borrowing again. In the meantime, he hopes the country's EU partners will keep their word and help Greece stay on the economic recovery track by addressing the debt issue in a way that will bring about growth and reinstate trust in the economy.
NBG Bond Sale
International markets have given the Greek recovery effort several votes of confidence lately. The latest show of trust came Thursday as the National Bank of Greece reportedly attracted orders in excess of EUR 2 billion for its five-year euro senior unsecured bond.
Price guidance has now been set at 4.5 – 4.625% and the offering will price in that range via lead managers Bank of America Merrill Lynch, Citigroup, Goldman Sachs, HSBC and Morgan Stanley.