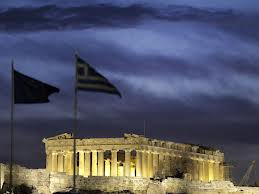 By Lefteris Yallouros – Athens
"Tonight I can confirm that Ireland is on track to exit the EU-IMF bailout on Dec. 15," Irish Prime Minister Enda Kenny told the national conference of Fine Gael, the larger of the two parties in Ireland's governing coalition.
Ireland will receive the last of its bailout loans and return to financial market for its borrowing needs in 2014.
The press in Greece, meanwhile, has been wondering why Greece should watch the delight of Irish in agony over the whether or not the country would meet its next fiscal target.
In fairness, Ireland's example is only partly relevant to Greece.
Ireland's crisis was primarily a banking crisis. Greece on the other hand had (and still does for that matter) a serious fiscal problem to deal with which in turn triggered a banking crisis that eventually spread to all aspects of the economy.
The country's public debt stood at 117 pct of its EUR 40 billion GDP; with unemployment at 13.5 pct and non-performing standing at 26.5 pct, the Irish took immediate measures to reform their banking sector.
The two cases are different and difficult to compare. Greece's economic fundamentals show an economic bust much deeper that Ireland's troubles.
However, if there is one lesson Greece could take from Ireland – a country that has managed within two decades to pull off two "economic miracles" – it is this: The Irish promptly found the cause of their financial woe, they negotiated their bailout correctly and made sure they stuck to the agreed reforms.
After seven austerity budgets, Irish debt already trades at yields below those of Spanish and Italian bonds, and the economy has returned to modest growth.
With Greece's bailout program due to end in 2014 the country is expected to need a third bailout (a 2014 Greek financing gap estimated at EUR 4.4 billion). Whatever the terms of any new deal with international creditors, Greece sees some light at the end of the tunnel. A budget surplus excluding interest payments is expected in 2013, a year ahead of schedule, and growth is also projected to return in 2014 for the first time since 2007. Ten-year bond yields have also declined below 9 percent from almost 18 percent a year ago.
It remains to be seen whether or not Greek sacrifices will begin to pay off in a similar way it did for the Irish.