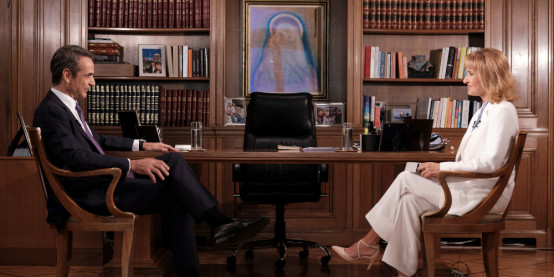 In a wide-ranging interview with Star TV on Monday, Greece's Prime Minister Kyriacos Mitsotakis made clear that a snap election is not on the cards. The premier also ruled out a cabinet reshuffle for the time being, despite persistent rumors making the rounds in the local press in recent weeks.
Mitsotakis said he had no reason to call an election since "society is showing trust in our government" which "has found its rhythm and is working well".
On the coronavirus, the PM said the "danger is not yet definitely over, we are proceeding to a rational lifting of restrictions", noting however that the country has left the worst behind. He went on to thank the Greek people for adopting the advice of medical and other experts during the lockdown period.
Responding to questions on the much-awaited reopening of the Tourism industry – starting gradually on 15 June – Mr. Mitsotakis stressed that tests on 1,300 visitors from abroad in the past week were all negative for coronavirus. He added that the choice between safeguarding public health and pursuing growth was a "false dilemma", adding that the faster public health is shielded, the quicker growth will be achieved.
According to Mitsotakis, hoteliers and tourism industry professionals have been handed tools by the government to cope with the health crisis, become more flexible but also not undermine the rights of workers. He went on to predict that the situation in Tourism will not be as dire as some expect.
Moreover, on the economic side, the Greek PM expects a recession to come in at around 5 to 10 percent this year, while more aid from the EU may be expected, in addition to the government's own 24 billion euro support package. Asked what the government plans to claim from the EU recovery fund, he said Greece will seek to receive the "largest possible amount" in grants -not loans.
On a controversial decision to reopen primary and secondary schools which opposition parties have slammed as irresponsible, the PM defended his view, pointing out that he took the advice of medical experts on the matter. He argued that six months is a long time for children to be kept out of school, while stressing that he felt pupils have understood the need to keep safe distances and follow good hygiene rules.
Finally, in response to reports in the UK tabloid press over the weekend that Turkish troops had "invaded and occupied" a patch of Greek land in the northeastern Evros border area, the premier denied anything substantial happened, while pointing out that there are "technical issues" between the two countries that will be resolved at a technical level.
"There is no border dispute" with Turkey, he said, adding that Ankara has been nervous since Greece decided to build a fence on the border. "It is our inalienable right to do it and we'll do it."/ibna