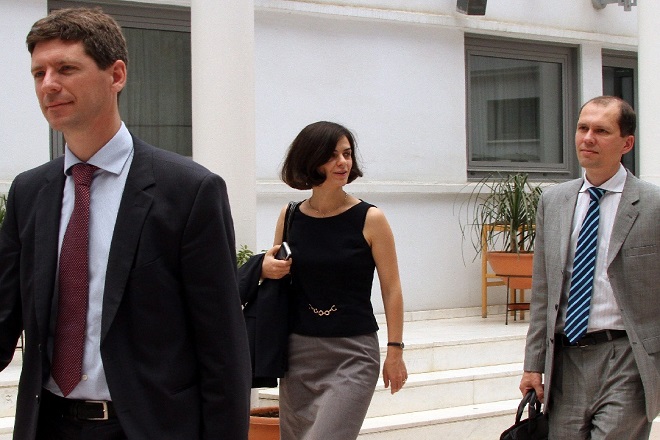 Athens, February 2, 2016/ Independent Balkan News Agency
By Zacharias Petrou
Greek government officals held their first meeting on Monday as part of the first review of the country's bailout program with the mission heads sent by the institutions representing Greece's creditors.
The Greek side was led by Finance Minister Euclid Tsakalotos, who was also joined by Economy, Development and Tourism Minister Giorgos Stathakis and Alternate Finance Ministers Giorgos Chouliarakis and Tryfonas Alexiadis.
The government is open to reaching an understanding and cooperation, and is coming to the new round of talks with the representatives of the institutions with a constructive attitude, government sources told reporters.
Regarding the proposed reforms to Greece's pension system, Greek government sources repeated that there can be no further pension cuts adding that Athens has already worked out alternative plans for avoiding cuts, which will be presented if necessary.
The first phase of the review is expected to last about one week and will be largely exploratory. A short break will follow and creditors will return to Athens to conclude the review when the government has followed through on all of its agreed obligations. The entire process is expected to last at least 2 months.
European institutions (European Commission, ECB, ESM) appear to be more sympathetic and want to avoid any political developments that would throw the country into turmoil. However, the IMF representative Delia Velculescu is expected to table a set of tough demands.
First of all, the IMF is pushing European creditors for a reprofiling of Greek debt. It is also putting forth a set of demands as prerequisites for its participation in the Greek program. These include more cost cutting and less new taxes. Also, reports in the press suggest that the IMF is expected to ask for a new salary system in the civil service and wider public sector as well as an end to public sector appointments.
There are also many agreed measures still to be implemented that the creditor institutions will want to see enforced imminently. These include the imposition of a special levy on games of chance, the special consumption tax on wine and bills promoting the use of debit/credit cards and tackling "black" money.
By far the most difficult issue that will be discussed as part of the first review is social security reform. Other thorny issues on the agenda include the sale of non-performing loans, a 2016-2018 fiscal gap and the measures required to bridge it, the details of Greece's new privatization fund, a new medium-term adjustment program that will run up to 2019-2020 and energy issues, chief amongst which is the sale of power grid operator ADMIE.
The issues to be discussed during the first week are social security and fiscal measures. Should agreement be reached on these, the rest of the agenda will be discussed with a view of completing the review by the end of February as Athens desires.