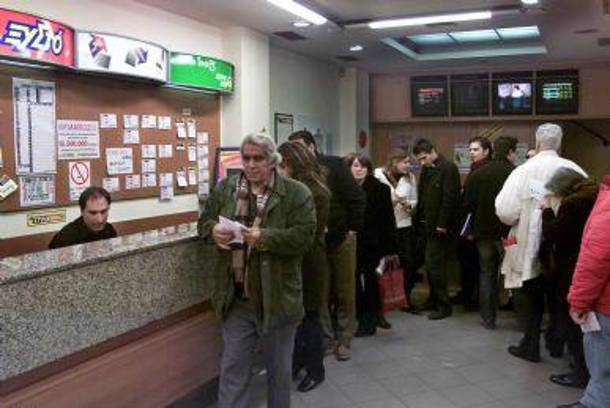 By Spiros Sideris – Athens
Queues formed outside OPAP (state betting agency) agencies on Sunday after 14 consecutive draws without a winner in the first category (5 + 1); the sum for the "Joker" draw had reached EUR 14.5 million. The last time there was a winning lottery ticket in "Joker" was on September 11, when a winner had won EUR 603,000.
The motivation is big, with everyone wanting to try their luck by betting least 0.50 euros, which is the value of on column. The amount of EUR 10 million had been placed to the game by OPAP on December 30, 2010 after nine draws without a winner.
That same year, 2010, was recorded the all time game record as in the April 15, 2010 after 14 jackpots in "Joker", three lucky Greeks divided EUR 19,278,990 among themselves, becaming richer by EUR 6.42633 million each.
Since then, the Joker has given away EUR 5.5 million in March 2012, EUR 5.5 million in November 2012, EUR 7 million in June 2013 and EUR 8.2 million to two lucky persons, who shared EUR 4.1 million) in August 2014.
"Joker" belongs to the lottery of OPAP and in 2013 it contributed approximately 4% of the total turnover of the organisation, with revenues of EUR 207 million, but its contribution is greater to gross profit with 11%. 90% of OPAP's revenue comes "Kino" and "Let's Bet".
Tax profits in the Joker is 20% of the total amount.
However, after the new jackpot, on Thursday's lottery draw an amount greater than EUR 15 million will be made available, something that will surely create even longer queues from fortune hunters.