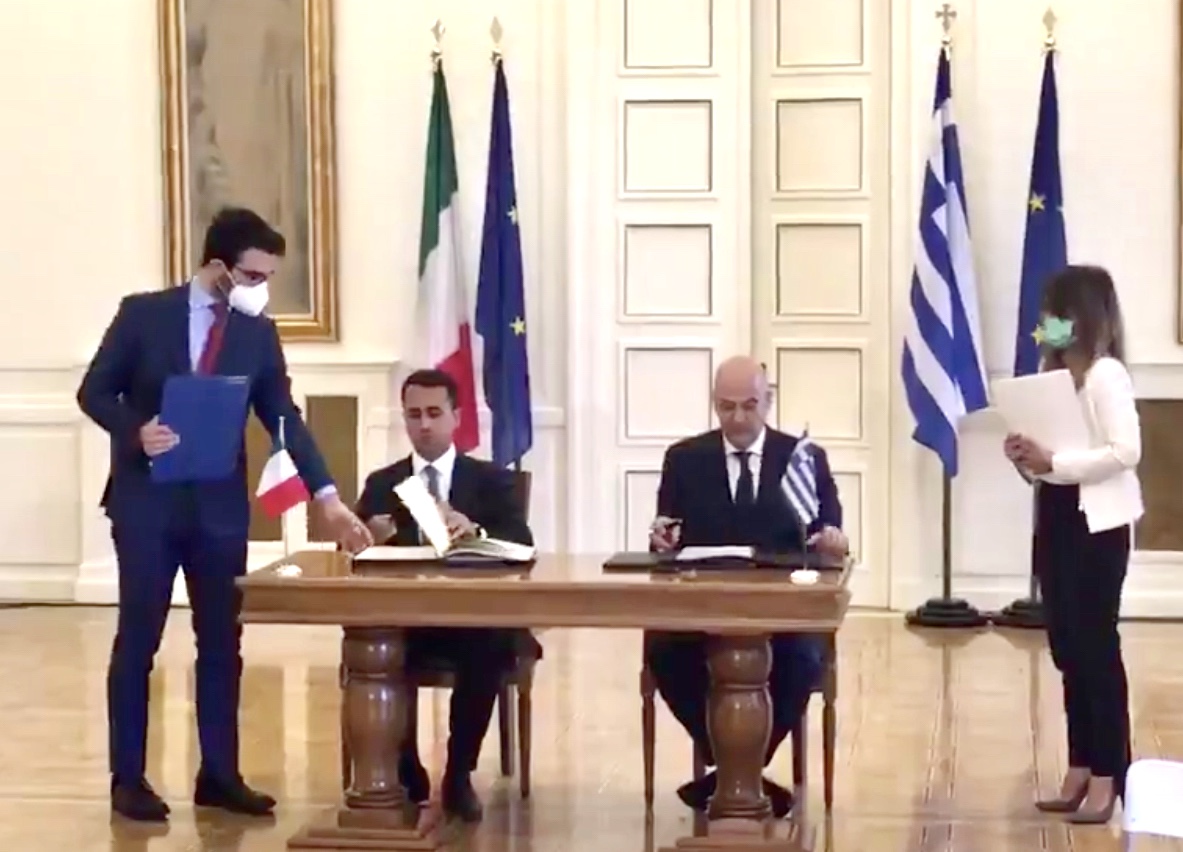 Greek Minister of Foreign Affairs Nikos Dendias welcomed his Italian counterpart Luigi Di Maio, with whom they had talks on bilateral, regional and international issues.
In this context, the Greece-Italy Agreement was signed for the demarcation of the maritime zones between the two states. This constitutes the first agreement Greece signs on an EEZ.
According to Greek diplomatic sources, the agreement was concluded on the basis of UNCLOS, that is, the United Nations Convention on the Law of the Sea (UNCLOS).
The same sources state that this Agreement confirms the right of the islands in maritime zones, as well as the median line of the 1977 agreement on the delimitation of the continental shelf between Greece and Italy as a boundary of the Greek-Italian EEZ. Under today's agreement, this median line will also apply to waters beyond the Shelf.
In addition, the Joint Greek-Italian Declaration on the Resources of the Mediterranean was signed today. With this statement, the two states express their commitment to a balanced and sustainable management of these resources and agree to hold consultations to assess the impact of various factors on the current practices of the fishermen of the two states.
Finally, a Joint Notification to the European Commission was signed, through which the two countries call for the regulation regarding the Common Fisheries Policy to be amended in the future so that, when Greece decides to extend its territorial waters to 12 nautical miles, the existing fishing activity of Italian fishermen in the area remains between 6-12 nautical miles, which today constitutes international waters. The self-evident importance of the reference to the Common Notice of the right to expand everywhere the territorial waters of Greece is particularly pointed out.
According to Greek diplomatic sources, the existing rights of Italian fishermen are clearly stated but are nonetheless limited, both in terms of the number of boats and the species that can be caught, while the species caught by Greek fishermen are excluded.
The first reaction to the agreement, which has not yet been made known in detail, came from former Foreign Minister Nikos Kotzias, who said in a Twitter post that "in the end, everything shows that they took the old plan for a Greek-Italian EEZ, they did not modify the 1977 coordinates, prior to the international maritime law of 1982, left islands with limited influence, the consequences of which we will face in the future, and recognized the rights of third parties to the Greek Territorial waters".
Immediately afterwards, the Foreign Affairs Chief of the SYRIZA Parliamentary Group George Katrougalos issued a statement noting:
"The agreement to sign an Exclusive Economic Zone with Italy is undoubtedly a positive development. Besides, the agreement picks up from where negotiations of the SYRIZA government left off, which, I recall, were part of a comprehensive strategic diplomacy plan that included expanding territorial waters in the Ionian Sea and concluding an Exclusive Economic Zone not only with Italy, but also with Albania and Egypt. We will obviously study the agreement to assess important issues, such as the impact of the islands, such as fisheries rights. The next step, however, should be the immediate expansion of territorial waters in the Ionian Sea and the continuation of the effort to conclude an EEZ agreement with Egypt, a key country for the defense of our national interests. As SYRIZA, and recently Alexis Tsipras, have repeatedly stated, we will back this national effort. But it must be part of a systematic strategy that is currently non-existent. That is why the request for a meeting of the Council of Political Leaders is as timely as ever". /ibna