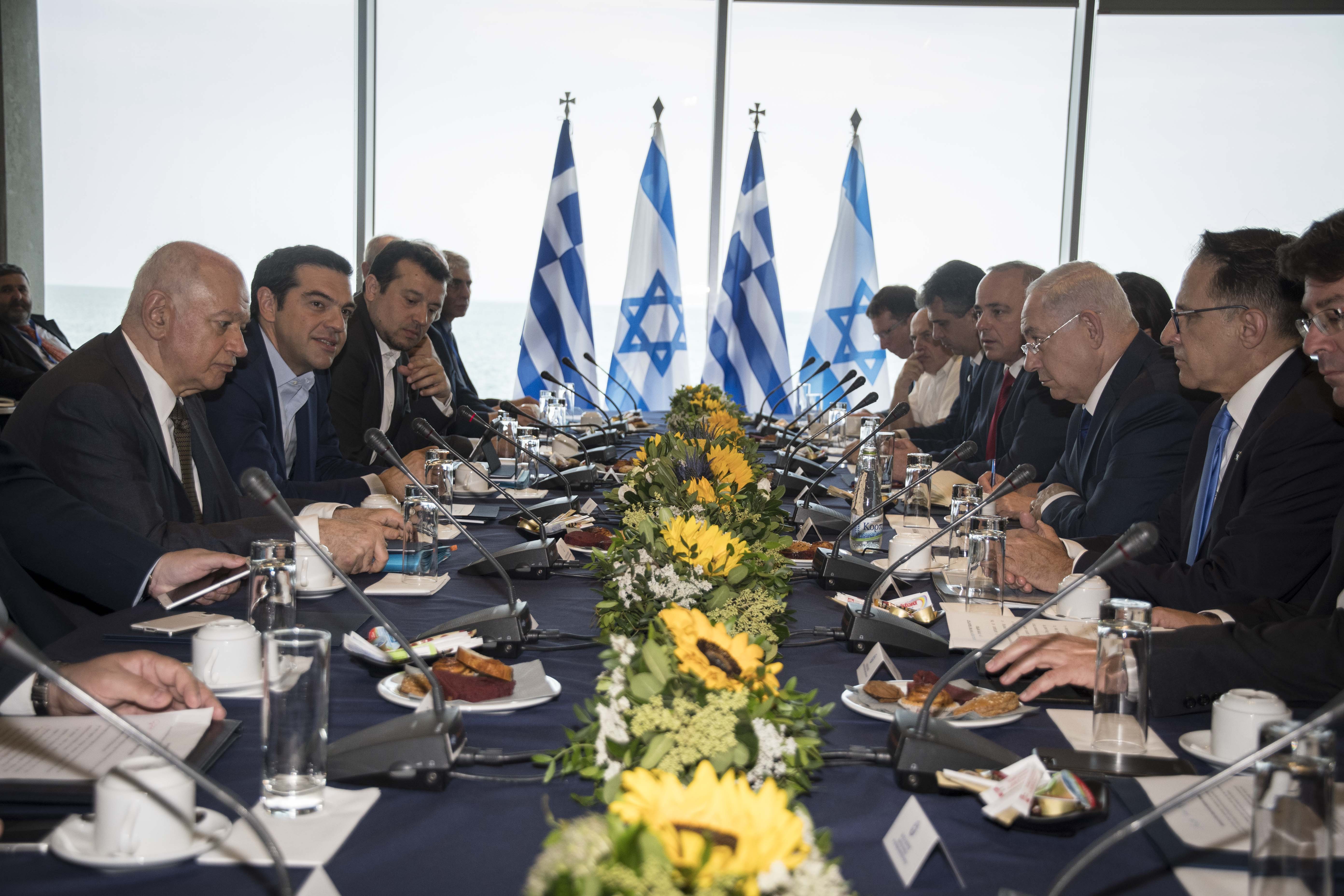 A further step towards the expansion of the Greek-Cypriot-Israeli cooperation is the 3rd Tripartite Summit of the three countries held in Thessaloniki with the participation of Greek Prime Minister Alexis Tsipras, Israeli Prime Minister Benjamin Netanyahu and the President of the Republic of Cyprus Nicos Anastasiades.
For the Greek government, the collaboration between the three countries is "strategic choice", as Alexis Tsipras has said, the foundations are already in place and discussions are progressing on energy, economy, environment, digital technology, telecommunications, space technology, research, science, innovation and diaspora.
The Summit takes place in a critical period following developments in the Middle East, with the problems in Arab relations with Qatar, the situation in Syria and the fight against terrorism, issues that were expected to be discussed with the Cyprus and the Palestinian issues.
The Greek delegation consists of Foreign Minister, Nikos Kotzias, Environment and Energy Minister, Giorgos Stathakis, Economy and Development Minster Dimitri Papadimitriou, Digital Policy, Telecommunications and Information Minister Nikos Pappas, Deputy Environment Minister Socrates Femmelos, Education Costas Fotakis, Deputy Foreign Ministers, Yiannis Amanatidis, Terence Quick and the Secretary General for International Economic Relations of the Ministry of Foreign Affairs, Giorgos Tsipras.
The East Med gas pipeline and the Israel-Greece electricity interconnection via Cyprus are expected to be at the heart of the talks on the three countries 'energy co-operation that will be held Thursday at a meeting of the three countries' leaders.
The East Med pipeline, an investment project of 5-6 billion euros with a capacity of 10-16 billion cubic meters of gas annually, is designed to transfer the rich energy reserves that have been discovered in the Eastern Mediterranean region to Europe. Its comparative advantage is that it serves at the same time two key objectives of the EU's energy policy, which is the diversification of both the Union's sources and energy supply routes.
Moreover, the techno-economic studies that have been carried out so far show that, despite the long distance (1,635 km) and the great sea depths in the route (up to 3,000 meters), East Med is technically feasible and economically competitive against the two main alternatives.
It is also worth noting that the scenarios studied include the possibility of increasing the capacity in the section of the pipeline after Crete, in the case of hydrocarbon deposits in the marine area south – southwest of Crete.
A corresponding route follows the electrical interconnection with the Euro-Asia-Interconnector underwater cable, which will start from Israel via Cyprus and Crete and will end in Attica. The project is also connected with the electrical interconnection of Crete with mainland Greece./IBNA