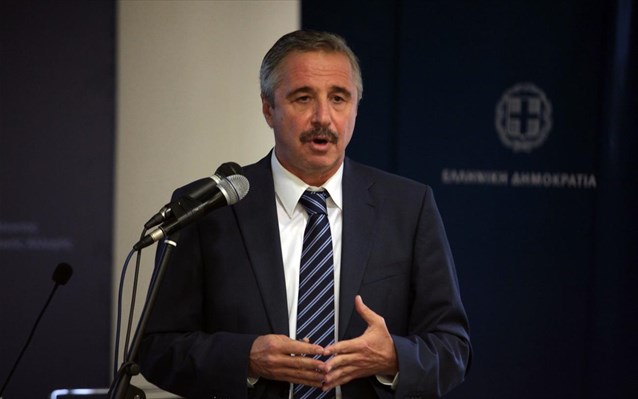 By Lefteris Yallouros – Athens
Greece is to invite major oil companies early July to conduct offshore test drillings in the areas of the Ionian Sea and off southern Crete.
In an event to be held in London on July 1-2 to present oil companies with Greece's plan to develop the untapped hydrocarbon potential, Energy minister Yannis Maniatis(photo) will announce the findings of Petroleum Geo-Services, the Oslo-based firm which completed seismic tests last year in Greece.
Maniatis will present the tender and together with ministry officials "will have private meetings with company representatives and investors to clarify special questions" a ministry announcement says.
The ministry describes PGS's findings – code-named "Greece MegaProject" – as "encouraging".
Maniatis recently approved another request by Italian energy major Enel to search for hydrocarbons in three onshore blocs in the west of Greece as the country's governemnt steps up efforts to find oil. Groups including Hellenic Petroleum, Energean, Edison and Petroceltic have also been given the go-ahead to explore and exploit possible hydrocarbon deposits.
The blocks the Energy ministry will be presenting to oil companies next month cover a combined area of more than 200,000 square kilometers.
The area south of Crete is expected to hold primarily gas reserves. Noble Energy's recent offshore discovery of major gas reserves in Cyprus gives Greece hopes that there may be "satisfactory" reserves off Crete that would pave the way towards energy independence and export options.
Up until recently, Greek areas both onshore and offshore remain unexplored with only few seismic studies and very few wells drilled. Analysts point out that despite the hype there is a remote possibility that large deposits will be not be found and that in any case Greece's oil and gas future depends on shaping and implementing a long term energy plan.
Having reached the licensing stage in Crete and the Ionian and with other exploration requests also being granted, Greece is on the road to finding out if its energy push will have any success.