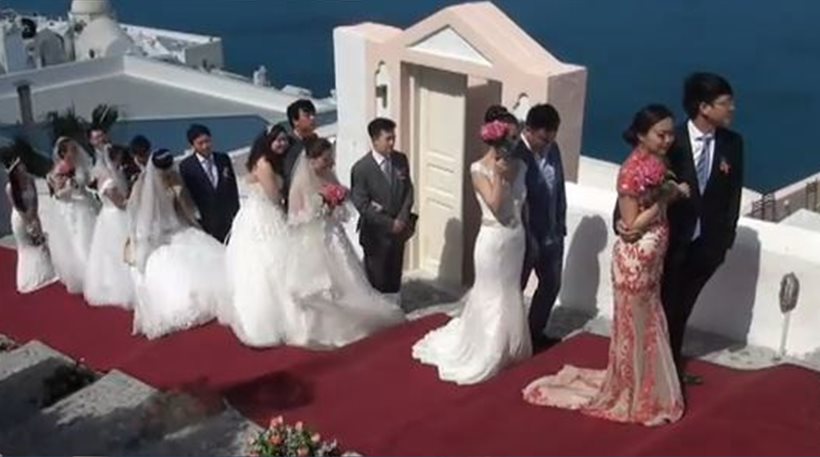 By Spiros Sideris – Athens
The group marriages of foreign couples in Greece is turning into a trend, strengthening the Greek tourism. The preference shown by young couples around the world to get married in Greece increases continuously estimates the Tourism Ministry and the "scene" is reminiscent of the movie "Marriage a la Greek".
Crete, Santorini and Halkidiki are some of our favorite destinations of couples from other countries who come to the islands and the coastal locations in Greece for a different wedding ceremony.
After the marriage of 16 couples from China in Chania, next was Santorini, which for years now is the top destination for such events. Then came Halkidiki and the "phenomenon" is spreading across Greece.
Greece is a safe and welcoming country that can offer unique, unforgettable experiences. It is a place of inexhaustible stimuli, natural environment, cultural heritage, nice lifestyle, gastronomy and the cradle of modern civilization, according to the tourism ministry.
Informal figures, as marriages are not registered in the registries, attest to the rising trend. Reportedly, last year alone, there were 1,100 weddings of tourists in Santorini alone.
The Chinese may be first on the list, but it seems that Santorini is becoming a global wedding destination as couples of various nationalities such as English, Americans, Russians and Asians choose it every year to exchange vows of eternal faith and love.
Indeed, the Indians who choose this beautiful Greek island to have their marriage are the ones who leave the most money, since they make some of the most expensive wedding ceremonies.
Note that Santorini has recently emerged as the second best luxury destination worldwide for honeymooners from the british website "101 honeymoons".
According to the newspaper "Kathimerini", more and more foreigners choose Greek destinations that are slightly less predictable.
Specifically: Monemvasia, Skiathos, Symi, Crete, Paros, Milos, Kos, Mykonos, Athens.
The first group wedding of Chinese in Greece took place in 2006 in Oia, Santorini, but at the time no one could have imagined that such an event could become a tourist trend. The beautiful island of Cyclades until today remains the most popular destination for travelers from China, who choose Greece for their holidays.
It is obvious that the market prospects are limitless. This emerged recently during the specialized exhibition for weddings "Wedding Fair 2014" in Bangkok, in which Greece participated through the advertising project YourWeddinginGreece.com.
The Greek project "Your Wedding In Greece" participated in the Thai capital Bangkok with its own stand at the beginning of July in the report, with wedding as its exclusive theme. In the report entitled "Wedding Fair 2014",  proposals for wedding celebration in various parts of the country were promoted, especially in Santorini, Monemvasia, Athens, Elafonissos and Alonissos.