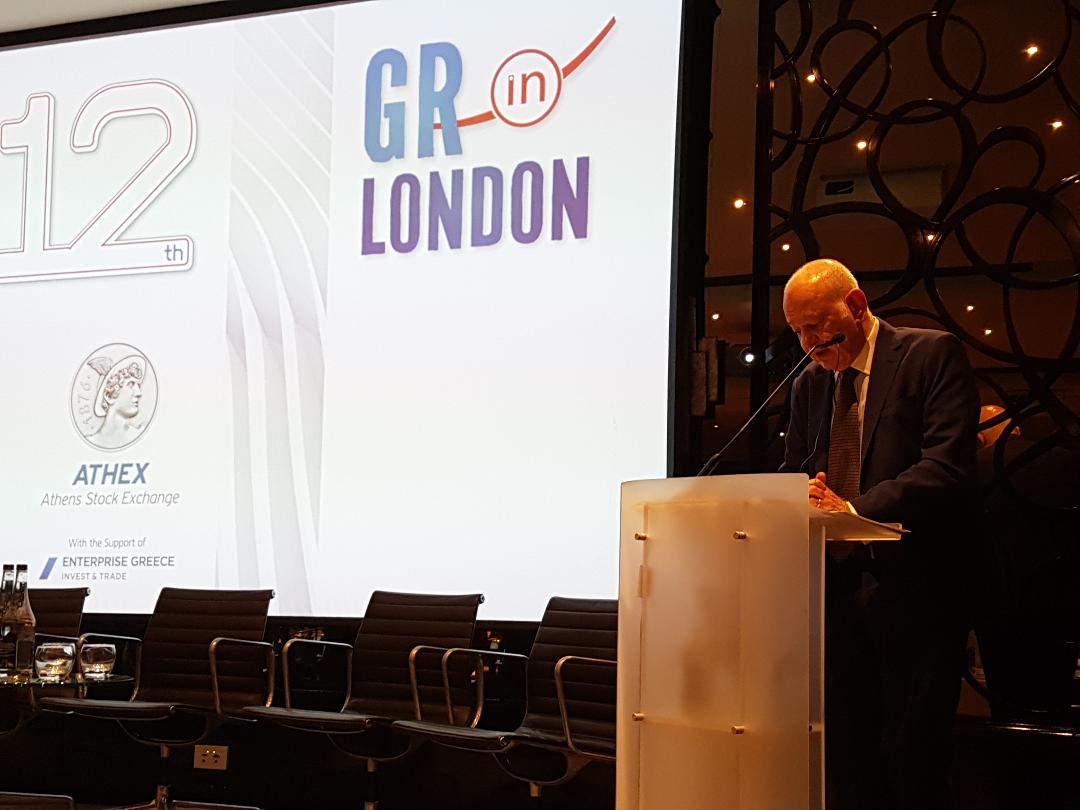 Two of Greece's ministers handling the economy and the country's top listed companies embarked on a mission to lure London's potential investors during an Athens Stock Exchange roadshow, as the crisis-stricken country seems to be eyeing the exit from a third consecutive bailout programme and years of downwards economic trends.
Addressing the event in a central hotel of the British capital on 20 September the Alternate Finance Minister George Chouliarakis said that Greece is now "on as visible path to economic recovery and growth."
Mr Chouliarakis quoted a series of official statistics attesting to the country's improved public finances, but he admitted that the question remains how this recovery can be sustained. "We must avoid complacency," he said, adding that there is still a lot to do in order to successfully conclude the third programme review "before the end of the year, and hopefully in time for the EU summit" in mid-December.
The Economy and Development Minister Dimitri Papadimitriou followed his colleague by presenting the benefits of investing in Greece. He started by stressing that the government is "increasingly seeking private capital" in order to implement its national growth strategy.
In his direct call to potential investors, the Economy Minister said that Greece is offering incentives such as "a simple and fair tax system for strategic investors", as well as reduced VAT rates, property taxes and social insurance contributions.
Trying to answer the big question, "why Greece?", Mr Papadimitriou said that the country offers quite a few profitable opportunities, underpinned by the demonstrability of the EU; it brings with it the benefit of an excellent location; it promotes an active privatisations programme; and it enjoys political stability and the security offered by EU and NATO membership in an unstable global environment.
The Minister also noted that Greece currently offers the competitive advantage of being a developed European economy with characteristics found in a developing economy.
The 33 listed Greek companies that came to London held dozens of private meetings with almost 250 representatives of funds and investment banks, while Mr Papadimitriou met privately with 30 of them.
IBNA sources said that most of the meetings the Minister had were with firms that have already put money in the Greek market, with many of them interested in expanding their portfolio. Much of the interest expressed covered tourism, healthcare, energy (renewables), agriculture and the banks.
The main concerns expressed by these potential investors were over the public administration reforms and the persistent bureaucracy surrounding investments, as well as the speed with which courts process business disputes.
The Minister also faced questions over the pro-business credentials of the left-wing Syriza government, with a member of the audience asking him "why Greece is so hostile to Eldorado", the Canadian company trying to secure all the necessary licences to operate the gold mining facilities in Skouries, northern Greece.
Mr Papadimitriou rejected the word "hostile" saying that the government did the right thing by referring the issue to arbitration due to concerns over the environment and the methodology used. He was also critical of the company's warning that it could leave Greece, commenting that "it is difficult to understand why they did not follow best practice and wait for the arbitration result"./IBNA