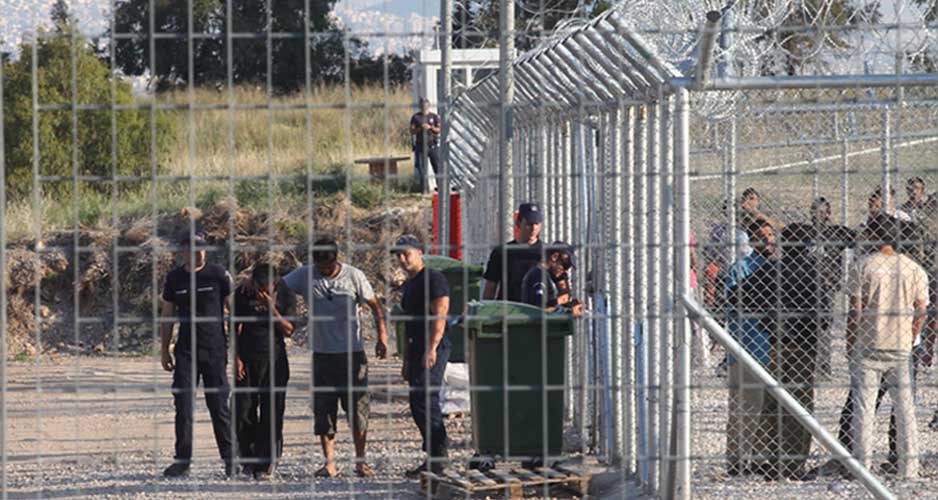 By Spiros Sideris – Athens
Bitterness and anger over the death of the 25-year old detainee Mohamed Asfak and indignation for the inhuman conditions of detention and its expansion even after eighteen months, have prompted hundreds of prisoners in the Detention Center of Amygdaleza in a dynamic hunger strike since Monday, November 17.
Current and former inmates of the immigrant detention center in Amygdaleza denounce cases of police violence, racist behavior against them and poor health care.
Their cry comes at the time of the fourth day of a hunger strike, while continues to B 'Mixed Jury, the trial of 65 detained immigrants of Amygdaleza for the uprising that took place on August 10, 2013.
The inhumane living conditions of hundreds of immigrants in detention centers have brought the first reactions from parliamentary parties.
In its statement, the section of SYRIZA on Rights, characterises Amygdaleza "modern Dachau", where "people are stacked in inhuman and degrading conditions", while stressing that the decision of the Legal Council of State adopted by the government for the detention of immigrants to more than 18 months is unconstitutional .
Moreover, it adds that despite domestic and international reactions to the center of Amygdaleza "the Samaras government, not only does not close this camp, but does not even improve the inhuman conditions prevailing there".
The investigation of the allegations of violence within the detention centers and the apportion of blame, if any, requests PASOK on the occasion of the hunger strike of the immigrants detained in the camp Amygdaleza.
The Division of Human Rights of PASOK also requests the activation of the National Health Operations Centre for the medical support of migrants and the Ministry of Public Order intervention for the release of those who completed the 18-month detention, in response to the relevant reports from Amygdaleza.