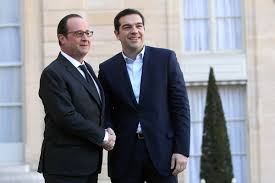 Athens, October 20, 2015/ Independent Balkan News Agency
By Zacharias Petrou
The Greek government has high hopes from the official visit of Frence President Francois Hollande to Athens this week ahead of a crucial review of the Greek adjustment program by the country's criditors.
The agenda of the visit is still being ironed out. However, it was revealed that the French President will be accompanied on this high-profile visit by Ségolène Royal and Michel Sapin, ministers for Ecology and Finance respectively.
Hollande, whose visit to Athens is scheduled for October 22 and 23, will meet and dine with the President of the Hellenic Republic, Prokopis Pavlopoulos. He is also set to hold crucial talks with Prime Minister Alexis Tsipras.
Greek government sources suggest that the Frence President, a proven ally of Greece, could assist the country's effort to wrap up the review of its first set of bailout reforms, paving the way for debt talks to begin.
The Greek side also hopes for Frence support in business terms. Prime Minister Alexis Tsipras is expected to discuss with F. Hollande how French investment can be attracted to Greece, especially in the energy and transport sectors.
The two sides will discuss the "Juncker package" on growth, the strengthening of investment activity and wider cooperation in the financial sector.
Government sources said on Monday that, among other issues, the forthcoming negotiations on the debt will be discussed along with the issues of bank recapitalization, collective labour agreements, safeguarding of transparency and social cohesion.
Francois Hollande is highly popular in Greece as he moved behind the scenes for Greece to finally clinch a bailout deal over the summer, a turbulent period which nearly saw the country exit the eurozone.
The French government could also prove to be a very important ally in the country's quest for debt relief as it appears to be sympathetic to a possible "reprofiling" of Greece's debt.