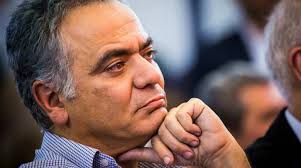 By Spiros Sideris – Athens
Greek Intelligence Service EYP does not exclude the possibility that main opposition spokesperson Panos Skourletis' phone was being monitored, according to reports the online edition of "Vima". Investigators have pointed out in their reports that the complaints made by the spokesperson of SYRIZA last June could probably be attributed to different types of technical problems in the mobile network, however, "it cannot be excluded that Mr. Skourletis' phone was being monitored by a wiretapping suitcase that is illegally available to individuals".
The investigation was ordered by the Public Prosecutor's Office and was conducted by the Department of Electronic Crime and ADAE. It showed that through legal channels there was no action or order to monitor the Skourletis' mobile, but it leaves "open" the possibility of a "suitcase" to have been "listening" to his talks with the leadership of SYRIZA and journalists. There had also been a meeting between Vassilis Kikilias with the representative of the opposition, while government spokesperson Sophia Voultepsi had spoken against Skourletis calling him the "head of the slander campaign".