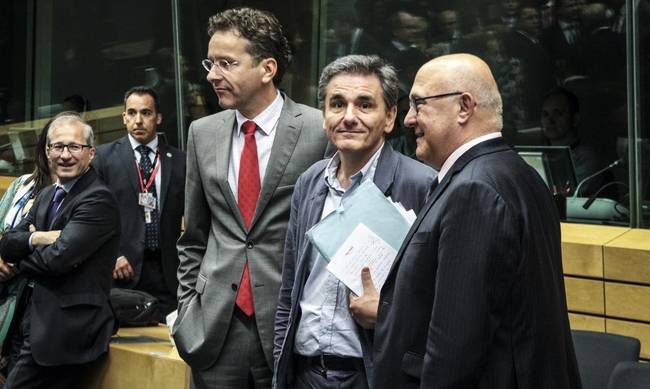 A Eurogroup meeting that ended on Monday night discussed the sustainability of Greek public debt and decided to grant Athens short term debt relief measures.
The Eurogroup endorsed a full set of short-term measures including: the smoothening of the EFSF repayment profile within the current weighted average maturity of up to 32.5 years; the waiver of the step-up interest rate margin amounting to 200 bps related to the debt buy-back tranche of the 2nd Greek program for the year 2017; the use of the EFSF/ESM funding strategy as markets allow to reduce interest rate risk without incurring any additional costs for former program countries.
The measures were welcomed by Athens, however, they were not enough to persuade the International Monetary Fund (IMF) to remain in the Greek bailout program as a lender. Eurogroup president Jeroen Dijsselbloem admitted the IMF will not join the program this year. The talks "will take us into the new year" he said.
"It's very important for all sides, including the IMF, to not jeopardize this progress with increased uncertainty," said Greek Finance Minister Euclid Tsakalotos.
The International Monetary Fund plays a key role in developments. The debt sustainability analysis, which the Fund needs to take to its executive board for it to decide whether it will participate in the Greek program, will be completed after the end of the ongoing Greek bailout review.
IMF representatives reconfirmed that they will propose a new financing arrangement to the IMF board once a staff-level agreement is reached.
The review, however, was not concluded during Monday's Eurogroup meeting and further talks will be required. The Eurogroup agreed Athens will need to implement a series of additional steps before the review could be wrapped up.
These include reaching the agreed fiscal target for 2018 (a primary balance of 3.5% of GDP), as well as reforms to enhance growth and cost competitiveness, including further substantial reforms of the labor market, the opening up of closed professions and the removal of barriers for investment.
A Eurogroup statement read: The Eurogroup recalled that the primary surplus target of 3.5% of GDP reached by 2018 should be maintained for the medium-term. […] In order to ensure compliance with the fiscal targets in a sustainable manner after the completion of the program, the Greek authorities commit to agree with the institutions on a mechanism and structural measures that would ensure this./IBNA