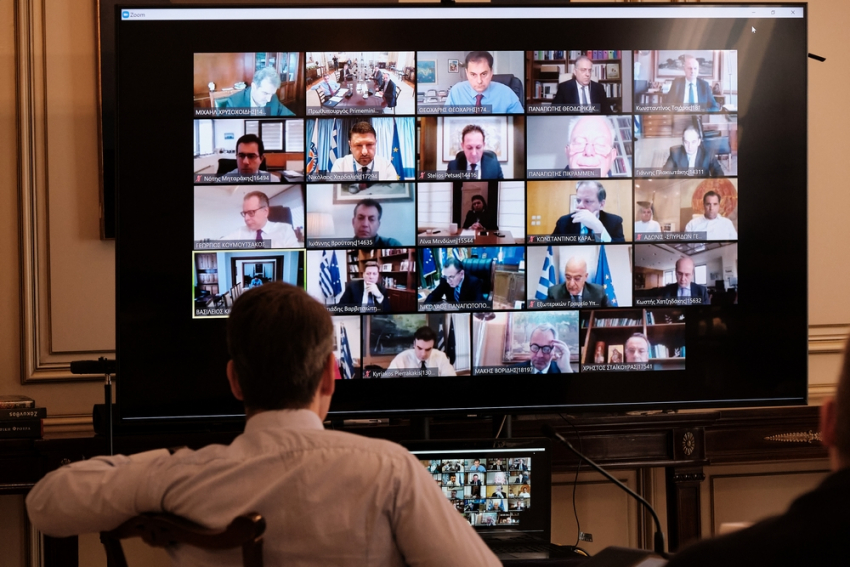 Greek Prime Minister Kyriakos Mitsotakis held a video conference today ahead of the Eurogroup meeting to take place this afternoon, in the presence of Finance Minister Christos Staikouras; Deputy Minister to the Prime Minister responsible for the Coordination of the Government Akis Skertsos; Deputy Minister to the Prime Minister and Government Spokesman Stelios Petsas; Chief Economic Adviser to the Prime Minister Alex Patelis; Chairman of the Council of Economic Advisers (SOE) representing Greece at the Euro Working Group Michalis Argyrou, as well as the Director of the Diplomatic Office of the Prime Minister Eleni Sourani.
Greece is heading to the Eurogroup meeting backing the position expressed by Prime Minister Kyriakos Mitsotakis along with other European leaders for the joint issuance of bonds as a form of solidarity with the countries most affected and in support of a common European vision.
A support strong enough to convince European citizens and markets that Europe has the will and the means to do whatever it takes to deal with the economic impact of coronavirus on each member-state.
Greece also supports the Commission's proposal for a program to support employment and the unemployed, as well as the proposal to strengthen businesses through the European Investment Bank. As for the ESM, our country will be entering discussions maintaining its firm position that the solution sought should be common and meet the needs of the current situation. The EU must show determination and solidarity amidst this crisis. /ibna