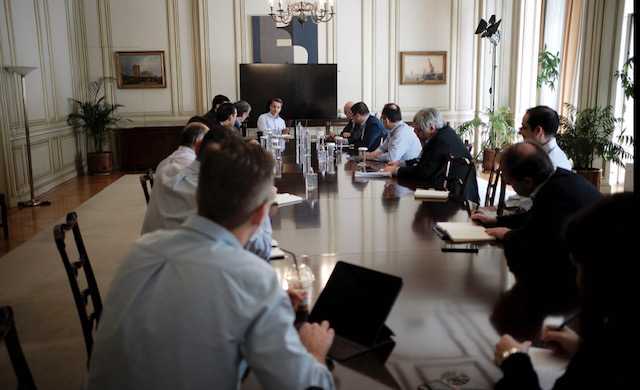 The daily meeting under Prime Minister Kyriakos Mitsotakis was held today at the Maximos Mansion on the progression of the coronavirus spread and the implementation of measures to counter it.
After intensive preparation, specialized public hospital wings for COVID-19 cases commence their operation. Furthermore, 70 people will be added to the staff operating the 1135 Service, and after training they will be made available to the public.
During the meeting the following were decided:
– The suspension of road, sea and air links with Albania and North Macedonia, with the exception of the carriage of goods and the entry of persons of Greek nationality or those who reside in Greece.
– The suspension of maritime transport to and from Italy for travelers. The transport of goods continues.
– Prohibition of cruise ships and sailboats to dock in Greek ports. – Air links to Spain are suspended.
– Coordinated efforts have been made with foreign embassies to obtain masks for Greece in the coming days from countries that have them in stock.
– In addition to the other legal consequences, fines of up to 5,000 euros will be imposed on those who flout the measures announced by demonstrating anti-social behavior.
– The political and parliamentary offices of the New Democracy MPs will close.
Prime Minister Kyriakos Mitsotakis has contacted Archbishop Ieronymos and has requested that the Churches remain open only for individual worship and for performing the necessary sacraments in the presence of very few people. The matter will be further discussed at tomorrow's extraordinary session of the Holy Synod.
Ways to avoid overcrowding in supermarkets and popular markets were also discussed.
The government is determined to take whatever measures are needed to protect the citizens' health. Citizens must also show maximum individual and social responsibility.
The new preventive measures to tackle the spread of coronavirus were announced hours after another coronavirus-related death was confirmed, bringing the death toll to 4. /ibna