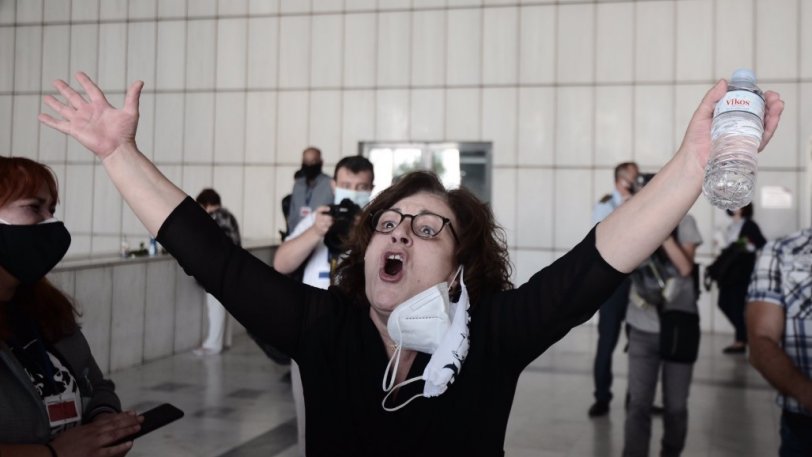 Wednesday, October 7, 2020, will gown in history as a day when democracy emerged victorious when the three-member Felony Court of Appeals announced the verdict for the former Golden Dawn Parliamentary Party.
After 5.5 years of hearings, the moment of Democracy and Justice arrived with the reading of the verdict for the activities of the criminal organization "Golden Dawn" in the three-member Felony Court of Appeals.
The President of the Court at 11:20 announced her decision for each case separately, with the first being the murder of Pavlos Fyssas, the second the attempted murder of the Egyptian fishermen, the third the murderous attack on PAME and then the criminal organization and its management.
The court ruled in four cases: the murder of Pavlos Fyssas with 18 defendants, the case of attempted murder against PAME members with 4 defendants, the case of attempted murder against Egyptian fishermen with 5 defendants and, finally, the criminal case organization, for which the entire leadership of the Nazi gang is being accused.
The announcement of the historic decision began with the absence of all the accused former members of the Golden Dawn. The seat of Giorgos Roupakias who confessed for the murderer of Pavlos Fyssas, as well as most of the accused was empty.
Roupakias was found guilty of intentional homicide, illegal possession of weapons, possession of weapons and use of weapons. Regarding the case of Pavlos Fyssas, everyone were found guilty except Santorinios and Tsakanikas due to reasonable doubt.
In the case of the Egyptian fishermen, the accused were found guilty of attempted murder.
Then there was a change of accusation for PAME, with the accused being found guilty of attempted bodily harm and not attempted murder.
The following seven are found guilty of directing a criminal organization, Nikos Michaloliakos, General Secretary of Golden Dawn, the former MPs Giannis Lagos, Elias Kasidiaris, Christos Pappas, Artemis Mattheopoulos, Elias Panagiotaros, Nikos Michos. The other 11 former accused MPs are also guilty of joining a criminal organization.
After the reading of the verdict, there was applause from the audience, while Fyssa's family reacted with tears when they heard the decision. More than 15,000 citizens gathered outside the courthouse to hear the verdict while shouting slogans against Golden Dawn./ibna