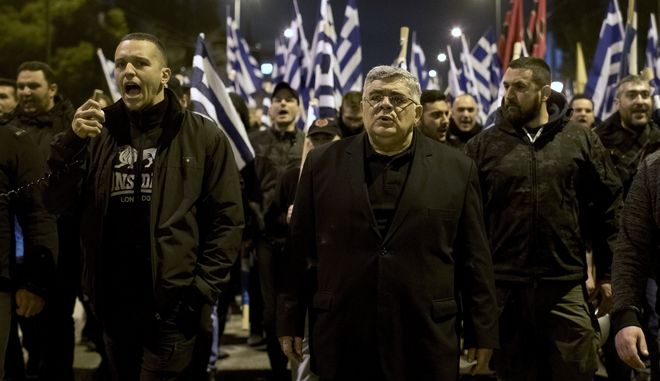 After five and a half years, shortly after one o'clock in the afternoon at the three-member Criminal Court of Appeal, the President announced the Court's decision for the 51 convicts in the infamous Golden Dawn trial.
Court President Maria Lepenioti announced that only 12 of the 51 convicts had been granted suspended sentences, in stark contrast to the Prosecutor's proposal that all defendants' sentences be suspended.
The verdict ruled that all members of the Golden Dawn leadership and former MPs Nikos Michaloliakos, General Secretary of Golden Dawn, Ilias Kasidiaris, George Germenis, ilias Panagiotaros, Ioannis Lagos, Christos Pappas and Artemis Matthaiopoulos will be sent to prison.
It is recalled that the sentences of the leaders of the criminal organization were decided as follows: 13 years and 6 months for Michaloliakos, 13 years and 8 months for Lagos, 13 years and 6 months for Kasidiaris, 13 years and 6 months for Germenis, 13 years and 3 months for Pappas, 13 years for Panagiotaros, and 10 years for Matthaiopoulos.
The 12 defendants who were granted suspended sentences are the following former MPs: Chrysovalantis Alexopoulos, Stathis Boukouras, Michalis Arvanitis, Dimitris Koukoutsis and Eleni Zaroulia, who will remain free under the conditions that they do not leave the country and pay bail of 20,000 euros.
The decision on the suspensions of sentences came two weeks after the court's decision to convict the criminal organization, followed by speeches by prosecutor Adamantia Oikonomou, who proposed that all defendants' sentences be suspended except for Giorgos Roupakias', the murderer of Pavlos Fyssas, who was sentenced to life imprisonment.
So far, four defendants have been handed over to the Police to be taken to prison, including two former MPs Ilias Kasidiaris and George Germenis. /ibna