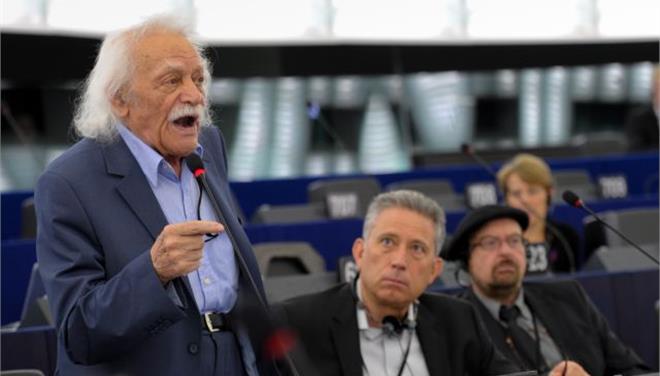 By Spiros Sideris – Athens
SYRIZA MEP Manolis Glezos brought the issue of stolen antiquities before the Culture and Education Commissioner candidate, Tibor Navracsics, during the hearing of the latter in Brussels.
Specifically, Manolis Glezos raised the issue of the return of stolen Nazi archaeological treasures, of the Parthenon Marbles from Britain and the Venus de Milo from France.
Glezos asked the commissioner candidate: "How is it possible to build the "european demos", you envision when Germany does not return to Greece its archaeological treasures snatched by the Third Reich? England refuses to return the Parthenon Marbles? France does not even discuss returning Venus de Milo? "
He added: "If, as you say", culture is the strongest point in Europe, "it cannot be based on the rapture, the plundering and looting".
A similar question was also addressed to the prospective commissioner by the MEP of the Independent Greeks, Notis Marias.
Replying, Navracsics said he has to be informed on the issue, saying that Hungary had similar problems with the rapture of Hungarian art from Russia.
He said he is aware of the problem, but said he is not aware of the extend it affected Greece.
He promised, however, to look and see what action can be taken.
He said that "Europe will not return to a time when European nations hate each other or do not trust each other".
"The EU is the most successful regional integration entity", he said. "I've lived a series of difficult negotiations and I believe that the on the basis of negotiations everything can be resolced", he concluded.