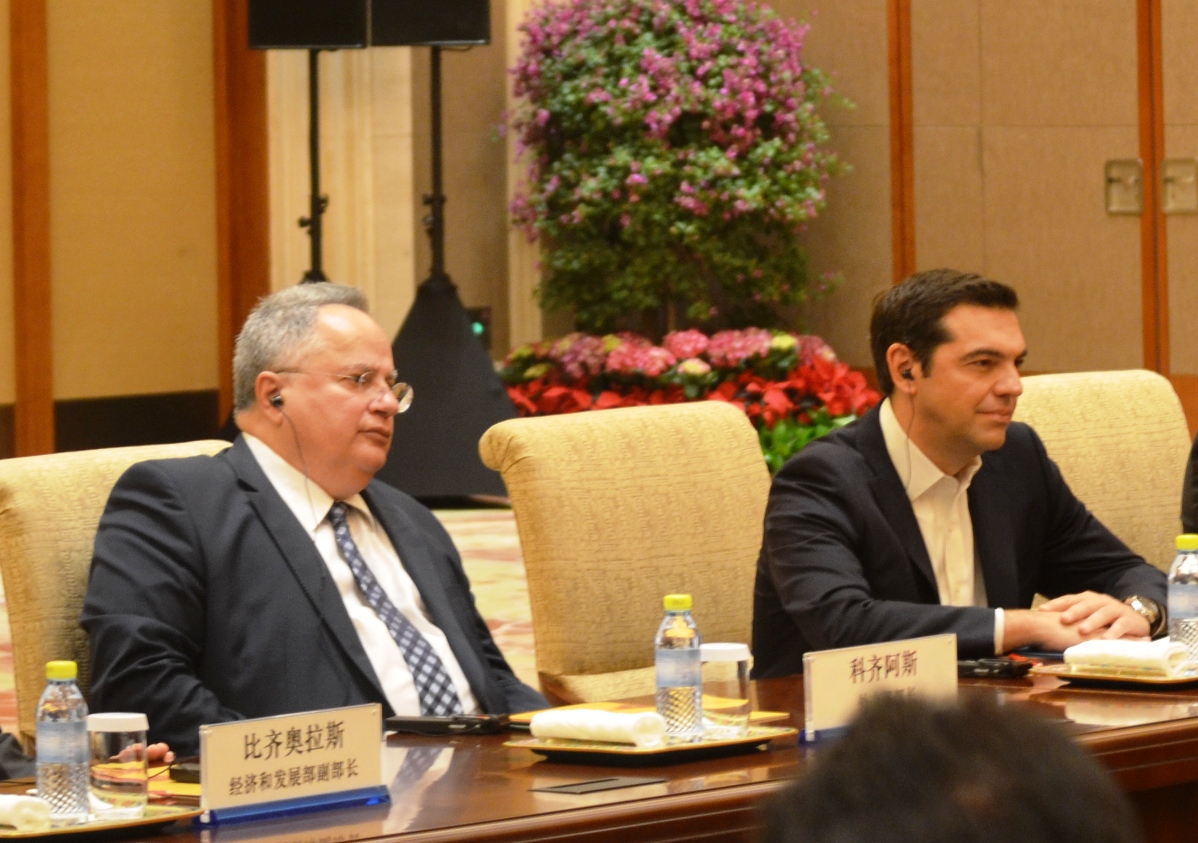 The second visit in less than one year of Greek Prime Minister Alexis Tsipras to China highlights the special importance that the People's Republic of China attaches to Greece.
On Alexis Tsipras' first visit, from 2 to 6 June 2016, he and the Greek delegation met with leading Chinese economic players such as Wanda Group, Alibaba, COSCO, ZTE, CEFC, COFCO etc. which resulted in investments worth approximately 700 million euros being made in coming years.
Also, two financial conferences were held in Beijing and Shanghai, with over 200 business meetings held between Greek and Chinese businesses. If one considers the size of Greece compared to China, this business contact is considered to have been very successful.
During the first visit, nine bilateral agreements were signed in the cultural, banking, tourism and technology/research sectors along with 8 business agreements, while the Greece-China joint declaration for the strengthening of their Global Strategic Partnership concluded the bilateral contacts in the best possible way.
In 2016, COSCO, CMEC and State Grid agreed to purchase 67.5% of the Piraeus Port Authority to make COSCO the largest port in the Mediterranean, investing more than 1.5 billion euros. The creation of a Joint Venture between DEI and CMEC for the construction of the second lignite unit in Meliti, Florina – an investment worth almost 1 billion euros – and the acquisition of a 24 pct stake in ADMIE by State Grid also went ahead.
The aforementioned investments followed Fothnet-ZTE agreement – signed in the presence of Alexis Tsipras – which is worth 500 million euros and the deal between Copelouzos Group with State energy firm Shenhua Group which is worth over 3 billion euros.
However, China's business interest in Greece does not stop there as a specific interest in the financial system has also been expressed by colossal financial institutions such as the Industrial and Commercial Bank of China (ICBC), which emphasizes on corporate finance and consumer credit; China Development Bank (CDB), which wants to be a forerunner and facilitator of Chinese companies to invest in Greece and the neighboring Balkan countries or to cooperate with Greek companies; Chinese group Fosun, who is seen as the most likely buyer of "Ethniki Asfalistiki" (the National Bank of Greece Insurance company); and the Central Eastern European Fund, which has been created by the Industrial and Commercial Bank of China (ICBC) and invests in Central and Eastern Europe and the Balkans, in cooperation with Chinese companies.
Ports, transport, energy, telecommunications, financial services and banks are all being considered by the Chinese whose strong interest in Greece is expanding to all the key business sectors of the Greek economy. The emerging global economic superpower wants a permanent gateway to the European Union and it is trying to achieve this through Greece which is keen on attracting foreign investment.
Despite initial concerns raised by the US and EU regarding the Chinese "investment assault" on Greece, this places Greece on new geostrategic standing in the global "chessboard".
China – which has been designing and implementing its plans over a long period of time – has peacefully conquered the Global market with the help of the One Belt One Road initiative which has made Greece a major pillar of the Chinese plans. And while many believe that Greece's position as well as the economic crisis make Chinese access to the Mediterranean country easy, there is also another factor that China attached great importance to Greece: respect for Ancient Greek culture which the Chinese regard as similar in stature to theirs.
Respect for Greece and its culture was clear for all to see at the One Belt One Road Forum, as the President of the PR of China repeatedly spoke about the initiative of Greek Foreign Minister Nikos Kotzias and the Ancient Civilizations Forum he organized in Athens in May./IBNA