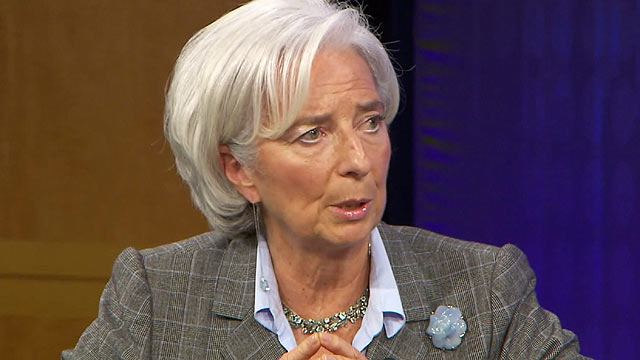 By Lefteris Yallouros – Athens
Christine Lagarde, the head of the International Monetary Fund, has openly questioned whether Greece is in need of debt relief while maintaining that a review of the status of the economy in coming weeks would determine if Athens' debt is sustainable.
"I would not pass judgment on whether or not debt relief is or is not needed or what form the European support will take," Ms. Lagarde told journalists in a briefing. "I think the jury is out" she added.
The news comes as the Greek government prepares for another audit by the troika in hope that progress in the reform effort will bring Greece closer to succeeding in securing debt relief when talks with EU counterparts on the issue begin in the fall.
The next round of talks between the government and the troika will be held in Paris instead of Athens. Finance Minister Gikas Hardouvelis will lead the team of Greek ministers taking part in the negotiations.
"The evaluation (of the Greek programme) abroad is proof of the trust we have built with our institutional partners…It was an idea of the prime minister which was agreed upon with our institutional partners as our country has fully recovered its credibility," Sophia Voultepsi, goverment spokeswoman, told reporters on Tuesday.
An omnibus bill including prior actions Greece needs to complete in order to receive a EUR 1 billion tranche from its rescue loans was submitted to parliament earlier this week. The bill has to be voted by parliament by August 8.
Meanwhile, trading in credit-default swaps tied to Greek government bonds has been reported by the Depository Trust & Clearing Corp. for the first time since 2012. Investors started buying protection again after the nation returned to the international bond market in April after a four-year exile. This is seen as the latest yet that the country's economy is gradually returning to normality.
The Greek government hopes to meet its bailout obligations allowing troika inspectors to wrap up their review of progress by early October paving the way for possible tax cuts and the all important goal of being granted substantial debt relief.
Addressing PASOK members on Wednesday, party leader Evagelos Venizelos said September will be a decisive month for developments in all political and economic areas. In regards to negotiations with the troika, Venizelos reiterated that no new measures will be implemented, adding that the country will return to normality. The deputy PM also stated that Greek sovereign debt is viable for the next decade.