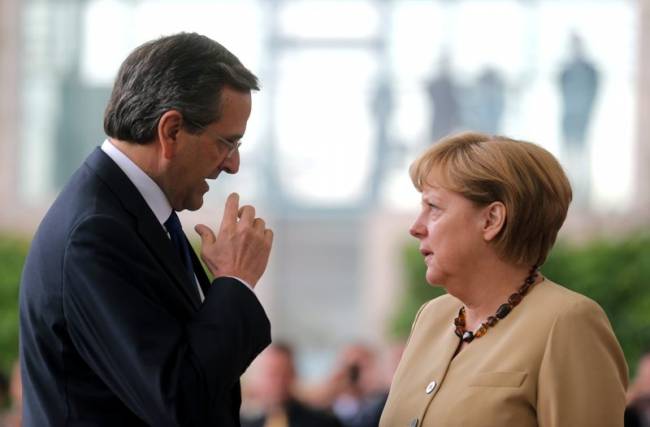 By Lefteris Yallouros – Athens
During a meeting with Greek Prime Minister Antonis Samaras in Berlin on Tuesday, German Chancellor Angela Merkel expressed her support of the Greek government's reform effort but offered no indication as to how crucial issues affecting the economy will develop.
The talks were satisfactory on behalf of the Greek side but only marginally as the German Chancellor gave only words of encouragement but not the promises Antonis Samaras would have hoped for.
In a joint press conference with the Greek PM, Merkel avoided reference to the Greek negotiations with the troika which are expected to resume in Athens next week. However, Antonis Samaras did, on his part, say that Greece can exit its bailout earlier than expected and can cover its own funding needs in 2015.
Furthermore there was no commitment to the form a final solution might take to the problem of the sustainability of Greece's debt on the part of the German Chancellor. Nor did she add anything concrete to Mr Samaras's statements to the need for lowering taxes for Greek households and businesses.
Angela Merkel praised Antonis Samaras for his leadership of the Greece during the crisis and acknowledged that the country had made important steps and that the first signs of growth were apparent.
"The first steps are becoming visible and we will do whatever we can to help Greece," she said.
For his part, the Greek premier was careful in his wordings when referring to exiting the memorandum of understanding with Greece's lenders and concluding the bailout program overseen by the troika.
Asked about reports of a "divorce" from the IMF after funding from the EU ends this year, Samaras told reporters: "I don't accept the term 'divorce', even if it's a velvet one."
"We have a cooperation that was never easy, quite the contrary, but that has certainly changed the face of our economy," he said. "I believe this cooperation will be completed ahead of schedule. If that happens, it would be a success, not a divorce."
Samaras also said Greece expects talks on further debt relief to begin after the next review by EU/IMF lenders and European Central Bank stress tests are over, while adding that the country would receive an extension of loan maturities and lower interest rates.
"I believe that we can certainly cover our funding needs from next year," Samaras said. We will see what happens with the next bailout tranches."
The Greek prime minister was clearly at pains to stress Greece's commitment to the reform process and announced that Greece would soon put forward its own proposal for a framework of reform implementation for the coming years.
Naturally, the main opposition in Greece jumped at the chance to attack Samaras for his visit to Berlin. SYRIZA issued an announcement in which it said his presence in the German capital was dismal and proved that the government has no idea what a negotiation should really be like.