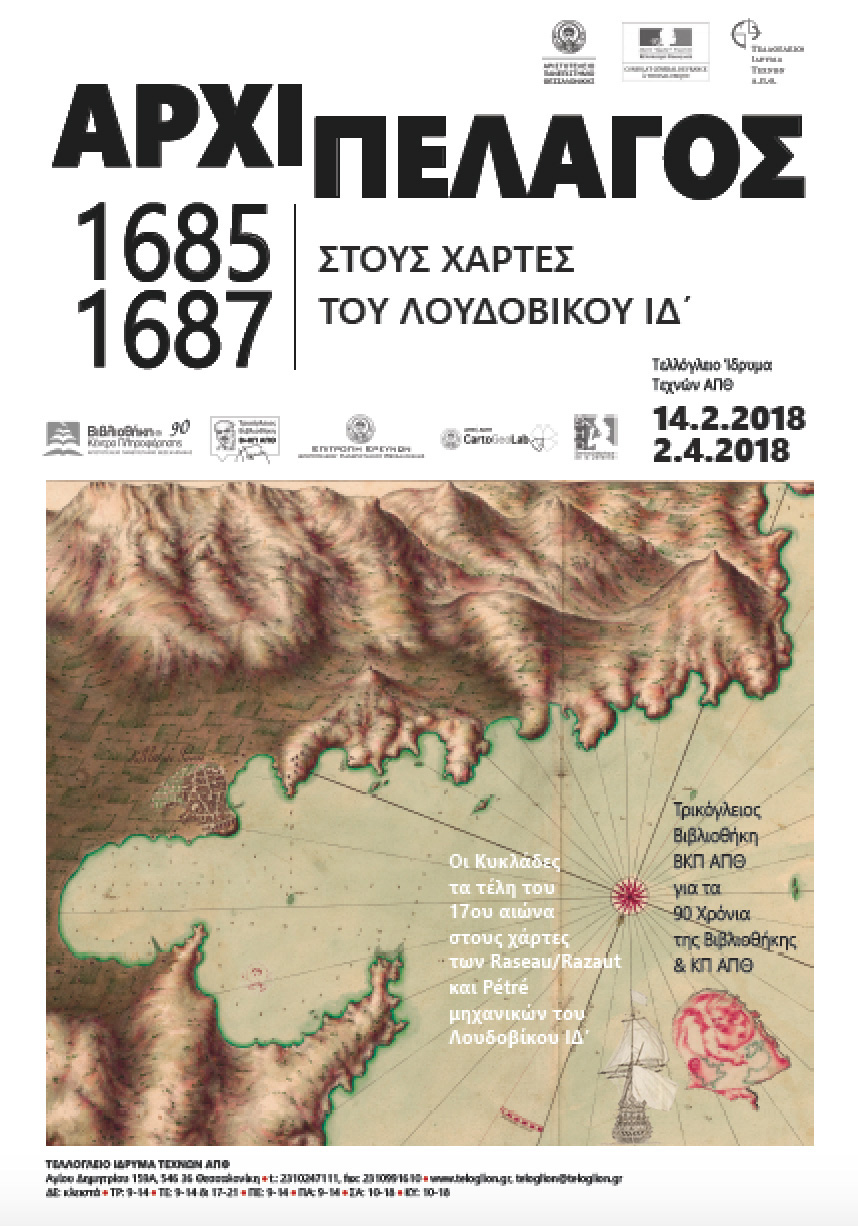 On Wednesday (Feb.14), the northern Greek city of Thessaloniki and the local Telloglio Arts Foundation opened their doors to a new exhibition that will run until April 2 and will travel visitors back in time.
Two years ago, "some of the rare, 333-year-old maps of the Aegean Archipelago commissioned by Louis XIV of France" in the Aristotle University of Thessaloniki (AUTH) Library as part of the Tricoglou Library donated to AUTH in 1963 "and led to the discovery of the remainder of the collection in the historical archives" of the French Defence ministry.
The exhibition is all about this collection of reunited maps, it is called  "Archipelago 1685-1687 in the maps of Louis XIV" and was organised by the Thessaloniki University library in collaboration with the French Consulate in Thessaloniki and the AUTH Cartography Workshop.
This is the second time that these exceptional maps are presented to the public but, perhaps, this one, to a wider audience. The first time was on 25 January 2017 at the Thessaloniki City Hall.
The ANA-MPA article reads that, "It features 39 rare, hand-drawn French maps of the Cyclades islands of exceptional quality and technique – which demonstrate the influence of classicism on cartography – as well as 28 panoramic works of art."
In 2016, almost two years before their 'introduction' to the public and the map lovers, a lecture on these rare  manuscript maps of the Archipelago 330 years before had taken place in Thessaloniki. Back then, it was explained that they are rare manuscript maps of the Cyclades islands in the central Aegean Sea, made by the French in 1685-1687 following orders of Louis XIV. These maps are subject of cartographic and historical research carried out in the AUTH CartoGeoLab in partnership with the AUTH Library.
The organisers have said that apart from their technical interest, the exhibits "provide a rare insight into the geopolitical challenges and risks at the time of their creation, leading to a deeper understanding of the balances and strategic significance of the Aegean as a sea that unites east and west, Europe and Asia", too, ANA-MPA reads..
The French General Consul Philippe Ray, on his part, spoke of how this organised exhibition underlines, proves and showcases the historic ties between Greece and France.
"We can see symbols of this relationship in the excellent condition of these maps, their careful preservation, separately in Paris and Thessaloniki, and in their reunification today," Philippe Ray noted, adding that the exhibition "concerns the presentation of a cultural heritage that is very dear to both countries, that we share and which unites us historically and geographically: the Mediterranean Sea."…/IBNA