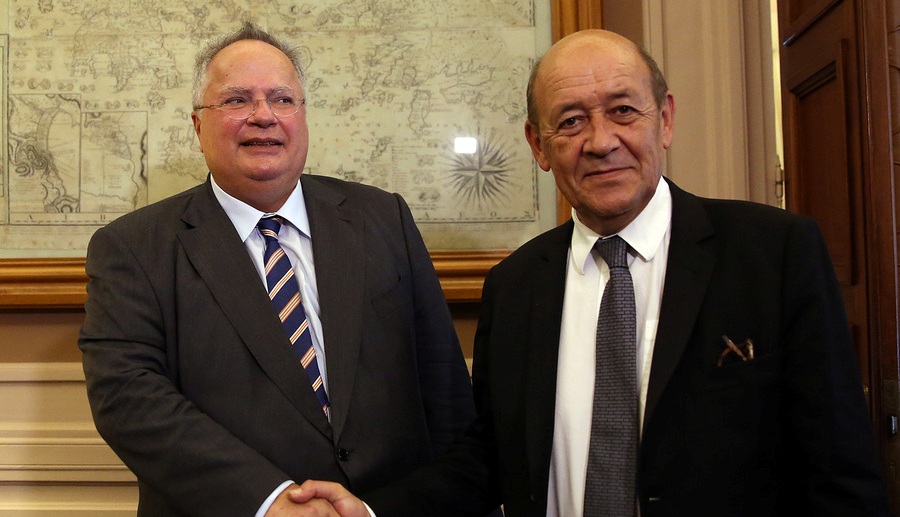 Thursday's meeting between Greek Foreign Minister Nikos Kotzias and his French counterpart Jean-Yves Le Drian that was held in Athens during a working visit by Le Drian at the invitation of Kotzias, proved the Greek-French strategic relationship.
Due to the common path on many European and regional issues through joint initiative, evident by the almost complete convergence of views, apparent at the joint press conference, made this meeting be a very productive one.
Following their private get together, the two ministers had a working lunch and then gave a joint press conference to Greek and foreign journalists.
The discussions focused on upgrading bilateral relations, strengthening investment, defence co-operation, and the special strategic role of the Greece-France relationship for both the EU and the Mediterranean.
The Common European Security and Defence Policy, Middle East, Syria, Western Balkans and the Prespa Agreement, Migration and Energy, have been thoroughly discussed in order to undertake joint initiatives, while renewing their New York meeting, on the sidelines of the UN General Assembly.
Nikos Kotzias then joined the French Minister at the Maximos Mansion, where Greek Prime Minister Alexis Tsipras welcomed Jean-Yves Le Drian. Finally, the French Foreign Minister also met with the President of (main opposition) New Democracy, Kyriakos Mitsotakis…. / IBNA