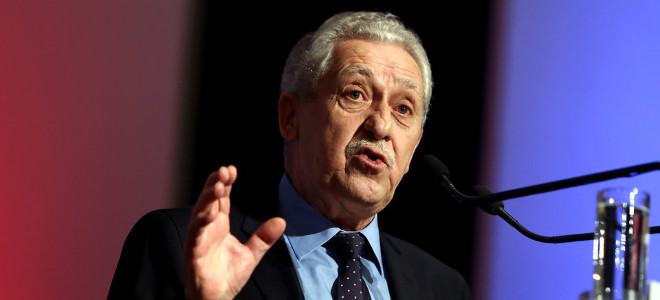 By Spiros Sideris – Athens
Fotis Kouvelis was reelected president of DIMAR, a few minutes ago, with 68.34% of the vote, as announced by the Electoral Commission.
The head of the party reaffirmed his position, since he received 503 votes out of a total of 745 casted. The other candidate Dimitris Loukas received 155 votes, ie 21.01%, while 79 participants or 10.71% of voters voted blank.
As  soon as the result became known Kouvelis stated that DIMAR returns to civilian life and wants to meet its obligations towards society, to get the country out of the crisis, but with the people standing.
"DIMAR is a force of responsibility for change", he said adding that, "and assert firmly, with its positions and ideas, the solutions to the major problems of the country. We move together with collective and clear political positions".
Kouvelis thanked the members and delegates of the party for their confidence in the new leadership.
Lukas said that DIMAR will work for a new social and political majority, with a strong presence of the Left, with consistency, responsibility and unambiguousness. The result of the count for the new Central Committee was expected to be announced late last night.
With the voting ends the 3rd conference of Democratic Left.
It is noted that yesterday, by a large majority and 30 blank votes, was decided the independent course of DIMAR for the setting up of a progressive governance proposal, excluding the New Democracy.
Previously, Fotis Kouvelis closing the three-day debate, had said: "I appreciate that DIMAR can, although it will be difficult, ensure its total recall (to the political scene). With a collective and joint effort it can once again stand on its feet".
Kouvelis admitted weaknesses and shortcomings to the was certain issues were handled, attributing however the state of DIMAR, apart from those failures, to the attacks it received after leaving the government.
The president of DIMAR reiterated his position on a possible run for the Presidency of the Republic, saying emphatically that the issue is not procedural, but rather has to do with the current policies.
"I'm not interested. I would be flattered – who wouldnt- but our comrades where determined not to vote for even if Kouvelis was the candidate".