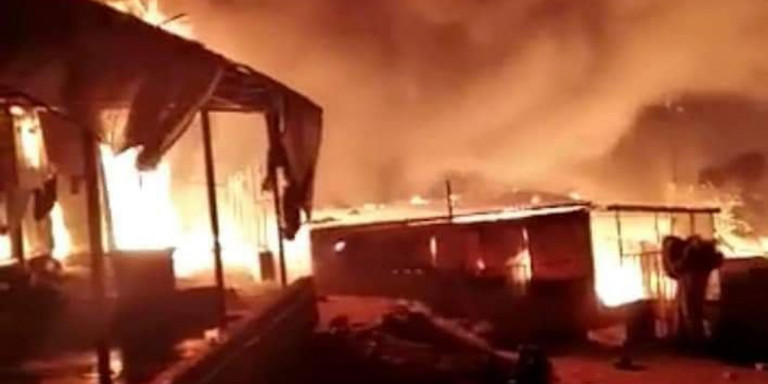 The refugee and immigrant camp in Moria, Lesvos, which houses more than 13,000 immigrants, burned down almost completely when a fire broke out in the shelters on Tuesday night.
The camp, which continues to burn, has forced a large numbers of refugees and migrants to flee to the surrounding mountains, with several heading for the city.
According to the information that has come to light, the reason was the announcement that 35 people were found to be positive for coronavirus and were to be isolated together with their family members and those who had been identified as their contacts. This would be done in warehouses just outside the Moria Hospital.
Some of them reacted to the prospect of quarantine and refused to leave the camp. Others tried to leave the camp late at night, moving towards the mountains, believing that in this way they would escape the danger of coming in contact with the coronavirus infected individuals who refused to leave. The clashes between them soon led to fires initially around the camp that burned all the tents outside and around the refugee reception center and the containers inside.
After 2.30 am, a large number of refugees and immigrants moved towards the city, passing through the village of Moria, while MAT squads with cages have created a barrier at the height of Kara Tepe, preventing them from entering the city.
From late at night and throughout the night until the morning, all available forces of the Police and the Fire Brigade were trying to bring the situation on the island of Lesvos under control.
At this moment and after a long and extremely difficult night, the efforts to put down the fire continue mainly inside the structure due to the many flammable materials while outside the hearths have been placed under control. At the same time, the efforts of the Police to limit any mass excursions to the city continue.
The Greek Police sends aid to Lesvos from Athens, in order to deal with the problem created by the fires. In particular, at 7 in the morning, three MAT squads departed from Elefsina with a C-130 military aircraft.
A meeting is being held at the Maximos Palace under the Greek Prime Minister and the competent Ministers for the coordination and response to the crisis that has broken out in the refugee and immigrant camp in Moria./ibna