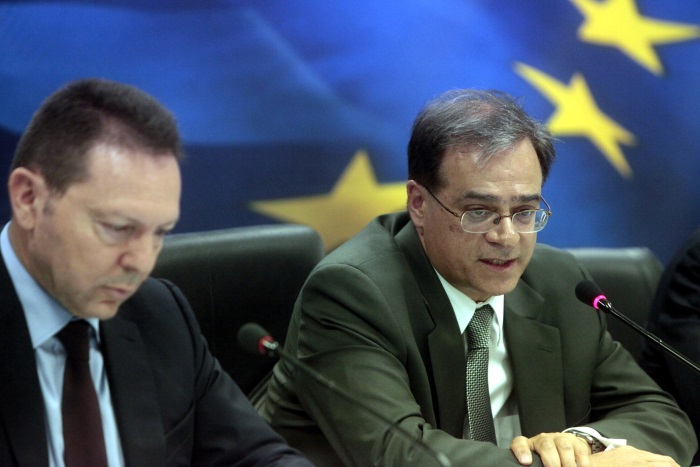 Review Hari Stefanatos
The approval of the relevant parliamentary committee for the appointment of Giannis Stournaras as governor of the Bank of Greece, asked from the Body the Greek Finance Minister Gikas Hardouvelis, stressing that "Mr. Stournaras was appointed Minister of Finance in a difficult time for the country, and Greece on his days has noted a number of significant omprovements as the primary surplus of the current account, the exit of Greece in the markets, which shows the reliability of our country and the acceleration of the privatization program".
In his report, the former Finance Minister stressed that the Greek economy has now stabilized, is close to registering positive growth, and by the end of the year there will be a growth of 0.4% to the country's GDP.
SYRIZA's Panagiotis Lafazanis criticized Giannis Stournaras stressing that "Stournaras spoke to the Commission not as governor, but as an administrator of the government's one-way course" and noted that "the governor of the Bank of Greece (BoG) should be independent, while you seek approval with a speech of absolute government orthodoxy and absolute unilateralism based on the policy, while you perceive your role as that of the long arm of the Prime Minister".
In response, Mr. Stournaras said he has no one-sidedness, but what happened was truly the only way to go, "and I do not see you proposing other solutions for the salvation of the Greek economy."
Mr. Stournaras in response to the question how much do the red loans amount to, he said they were about 77 billion euros, of which 10 billion in consumer loans, 25 billion in housing loans and 42 billion in business loans.
From the side of the Greek Communist Party (KKE), Nico Karathanasopoulos stressed that his party opposes the placement of Stournaras to the position of the Governor of BoG. "Our objection has nothing to do with the person, but that Mr. Stournaras' role will be the shielding of the capitalist system," he explained.
(Source: Skai)